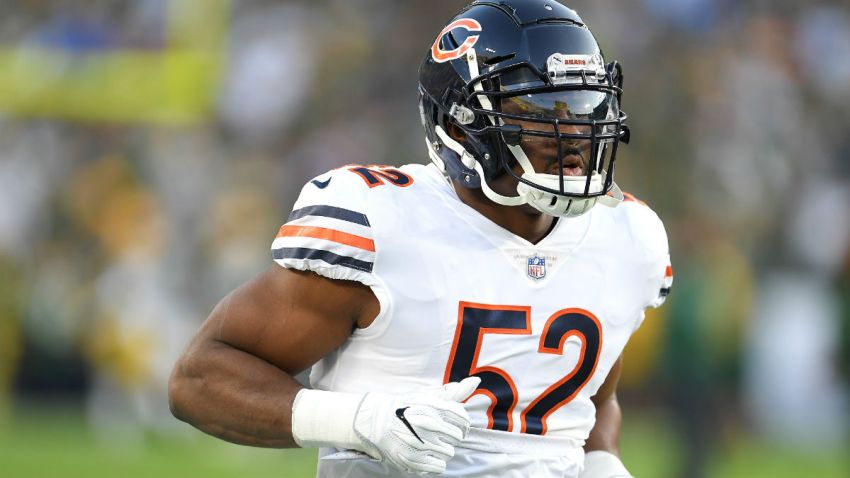 Everything was going right for the Chicago Bears' defense against the Green Bay Packers last weekend, but it all went south in the second half as Aaron Rodgers torched the team for a 24-23 victory at Lambeau Field.
That loss turned a lot of attention onto Vic Fangio's defense, which could barely get any pressure on a quarterback that had suffered a badly sprained knee in the first half of the game.
A big part of the reason for that struggle was that the Green Bay quarterback was getting rid of the ball in short order on virtually every play, but even when he dropped back in the pocket and surveyed the field, the Bears still struggled to get any pressure on him, and their downfield tackling proved to be the capper on a really ugly Sunday sundae.
With the Seattle Seahawks coming to town, the Bears will need to guard against that kind of approach at Soldier Field, as Russell Wilson certainly has the mobility to extend plays and to throw the ball down the field.
What's unclear is whether or not Seattle can pick up the pace, as they will be missing Doug Baldwin and haven't really established a number one running back thus far this season.
Speaking of failing to establish a presence on offense, the Bears couldn't seem to find their footing after a couple of strong drives against the Packers, and the Seahawks could key in on that on Monday. Even without some key linebackers, the Seahawks could still put plenty of pressure on Mitchell Trubisky, forcing him into some quick decisionmaking that he struggled with against Green Bay.
The Seahawks will need to focus their attention on robbing the Bears of their ability to dump the ball off for short gains, meaning that they'll have to keep a sharp eye on Tarik Cohen and Jordan Howard in the passing game.
The Bears' longer game to Allen Robinson and Kevin White didn't really materialize much in Week 1, but Seattle's pass rush will need to be strong to ensure that Trubisky won't have the time to find those targets in Week 2 either.