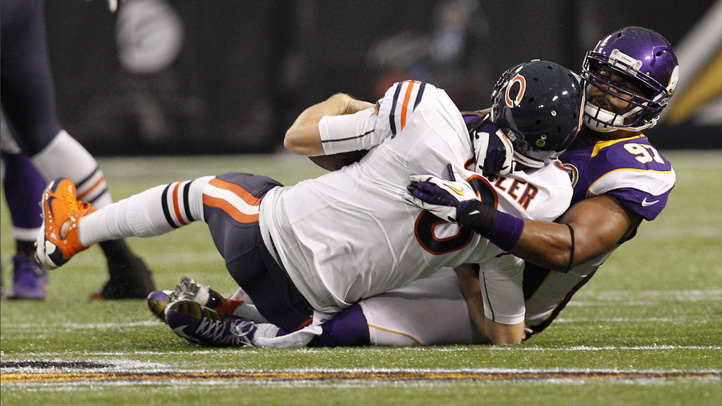 Jay Cutler's neck stiffened up, and the Chicago Bears couldn't escape their early stumble at Minnesota.

The playoff race is tightening around them, too.

Adrian Peterson rushed for 154 yards and two first-quarter touchdowns and Harrison Smith returned an interception for a score to lead the Vikings to a 21-14 victory on Sunday over the free-falling Bears, who have lost four of their last five games.

"We have to make sure we close this hole up before it gets too late," said wide receiver Devin Hester, who dropped a sure touchdown pass from Cutler when he was wide open up the middle on third-and-6 at the Minnesota 23 with about 4½ minutes left.

Brandon Marshall, who finished with 10 catches for 160 yards, couldn't snag the ball on the next play, giving the ball back to the Vikings (7-6). That was the last throw of the afternoon for Cutler, who took a late hit to the head from Everson Griffen earlier on that drive.

When the Bears (8-5) started their next possession, Jason Campbell was in at quarterback. Cutler was in obvious discomfort after the game, robotically turning his shoulders instead of his head while he stood at the podium to take questions from reporters.

"We all let the team down," Marshall said. He added: "I have to make that play. That was a momentum play. If we move the chains, the game is probably different. I've got to do better."

Whether it's mounting injuries, bad tackling or an erratic passing attack, the Bears have lost their first-half momentum. They host division-leading Green Bay next week then play at Arizona and Detroit to finish the season. Despite starting 7-1, the Bears have already started talking about needing to win out.

"That's fine. We can do that. The confidence is not wavering. We're fully confident that we can do that," defensive end Julius Peppers said, adding: "We don't need to do anything heroic or super-human to beat Green Bay."

If this slide has begun to feel familiar for the Bears, that's because it is. Last season, they lost five straight games after a 7-3 start and finished 8-8 to miss the playoffs. Cutler went 22 for 44 for 260 yards, one touchdown and two interceptions. Josh Robinson got the first one after Alshon Jeffery got tangled up and slipped, returning the ball to the 5 to set up Peterson's second score.

"You know it's going to be a hostile environment and all that. We talk a lot about starting fast. You have to do that on the road," coach Lovie Smith said. "That opening drive really put us on our heels, and we never really recovered."

Cutler blamed the second interception on his neck, when his deep throw to Marshall was picked off by Smith and run back 56 yards to give the Vikings a 21-7 lead.

"Couldn't really follow through with it. Got the coverage we wanted," Cutler said, adding: "It sailed on me. It was nothing they were doing. Just they happen sometimes."

Marshall tried to take the blame for that one, too.

"That was another one of those plays I've got to make. When you have a hot-hand quarterback like that, you have to make the plays for him, because the more you make plays for him, the hotter he gets," Marshall said, noting his 6-foot-5 frame. "I've got to go up and get it."

Read up on the recaps and analysis from our live blog below.
Copyright Associated Press
[View the story "Chicago Bears vs. Minnesota Vikings" on Storify]
Copyright AP - Associated Press