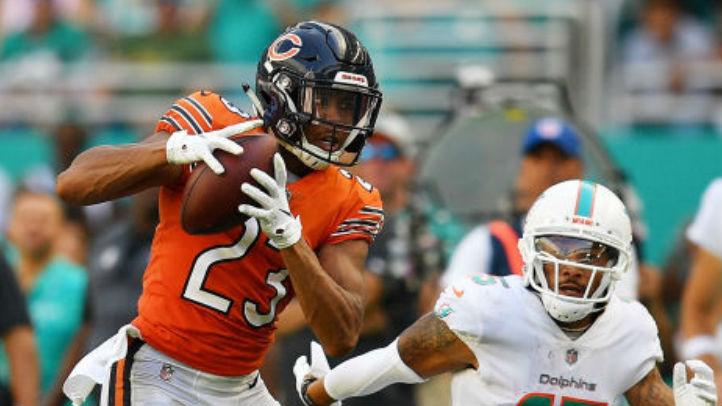 It was a roller coaster ride for the Chicago Bears on Sunday, as they stormed ahead of the Miami Dolphins and saw their lead slip away in a 31-28 overtime loss.
The loss, which puts the Bears at 3-2 as they head into a big showdown with the New England Patriots, saw plenty of good moments but a slew of bad as well as the team suffered a setback.
Here is how we graded the team in each of the Three Phases of their game Sunday:
Offense: B-
On a normal Sunday, Mitchell Trubisky throwing for 316 yards and three touchdowns would be good enough to win, but the fact remains that the team committed two costly turnovers in really bad spots, with Trubisky throwing a red zone interception and Jordan Howard coughing up a fumble at the goal line.
The play-calling of head coach Matt Nagy deserves some questions as well, as he went into an ultra-conservative play-set when the team was in Miami territory in overtime. Cody Parkey ended up missing a kick of 53 yards that would have won the game, and Bears fans were left to wonder if the team should have pushed harder for more yardage instead of settling for the low percentage kick.
That being said, performances by Taylor Gabriel, who hauled in five catches for 110 yards, and Tarik Cohen, who had 121 all-purpose yards in the game, were enough to generate some optimism about the team moving forward.
Defense: C
The Bears were held without a sack for the first time since their final game of the 2016 season. Khalil Mack injured his ankle and was a non-factor throughout the game. A slew of missed tackles led to big plays from Kenny Stills and Albert Wilson.
The one redeeming grace of the defense was cornerback Kyle Fuller, who rebounded from a bad moment early in the game to intercept two passes in the contest, marking his first multi-interception game since his NFL debut.
Special Teams: C+
Parkey's missed field goal in overtime is hard to pin on him, as it was far from a gimme, but Pat O'Donnell averaging just 39.5 yards per punt and the Bears' returners totalling just 21 yards on two attempts certainly didn't help matters here.
Meanwhile, Jason Sanders knocked through three field goals for the Dolphins, and Matt Haack pinned the Bears inside of their own 20 on two separate kicks in the game as the Dolphins won in that area of the field.