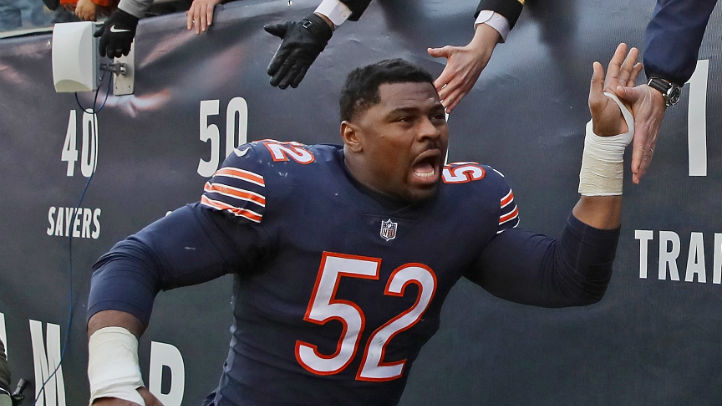 It was a big day at Soldier Field for the Chicago Bears, as they snapped a 10-game divisional losing streak and beat the Detroit Lions 34-22.
The win puts the Bears in great position as they head into their next game against the Minnesota Vikings, but before we start delving into that game, here are our winners and losers for Sunday's game:
Winners:
Matt Nagy's Aggressive Play-calling
The Bears have made it a point lately to keep the pedal to the metal when leading in games, and that's exactly what they did on Sunday, as Mitchell Trubisky and company continued to move the ball around the field even after building up a big lead.
That evolution of strategy on the part of head coach Matt Nagy is a welcome sight, as the Bears continue to do exactly what they need to do: put away lower-tier teams when given the opportunity.
The Bears' Pass Rush
The Bears have struggled to get to the quarterback in recent weeks, but that was not an issue on Sunday, as the Bears registered six sacks on Lions quarterback Matthew Stafford and made his life miserable in the pocket.
A big part of that success was the return of Khalil Mack, who looked positively dangerous after sitting out for two weeks with an ankle injury. He had a pair of sacks in the game, and was a much more effective player than he was in his last appearance against the Miami Dolphins.
Roquan Smith was another key contributor, as he registered 10 tackles and a sack in the game. His intuitive play has been a blessing for the Bears, and he is quickly becoming one of the top defensive rookies in the league.
Losers:
Jordan Howard
Howard's up-and-down season continued on Sunday, as he rushed for just 21 yards on 11 carries. There were questions upon the hiring of Nagy about whether Howard would fit into his offense, and for the most part, he has been playing second-fiddle to Tarik Cohen, who got 13 touches and had 44 all-purpose yards in the game.
That being said, Howard does still have a role to play in the offense, but he needs more than 11 carries to do it. Most of those carries came late in the game after the contest had effectively been salted away, so it will be interesting to see how big a role he will play against the Vikings.
Cody Parkey
Any time a player misses two field goals and two extra points he's going to feel the pressure a bit, but his job is safe, according to Nagy, so he can focus on improving for next week's game against Minnesota.