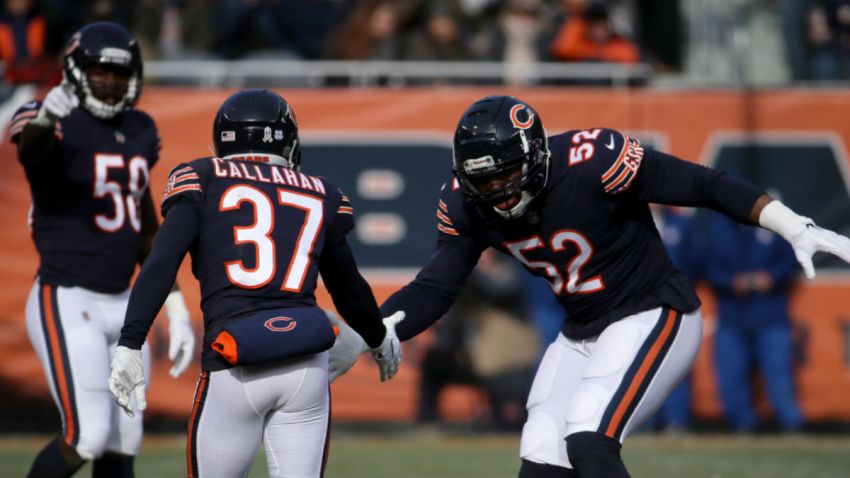 The Chicago Bears came into Sunday's game against the Detroit Lions looking to make a statement in their division, and while they let their opponent hang around, they still finished off a 34-22 victory at Soldier Field.
The Bears took advantage of some key Lions injuries and aired the ball out at will, as Mitchell Trubisky threw for 355 yards and three touchdowns in the contest.
To take a deeper dive into the game, here are our Grizzly Details from the victory:
Bryce Callahan's Value Continues to be Evident
A free agent at the end of the season, Bryce Callahan was a monster for the Bears again in this game, defending several deep passes and making some huge plays, including an interception, two defended passes, and a sack of quarterback Matthew Stafford.
There are few slot cornerbacks in the NFL that are able to make as many plays as Callahan has this season, and even though the Bears will be operating with some salary cap limitations next season, they should still make it a priority to get Callahan locked up to a deal.
Jordan Howard's Work Load Continues to Shrink
The Bears have been trying to get their passing game going a lot lately, but even against a Lions team that was missing its top cornerback in Darius Slay, one would have thought that they would have gone with a bit more of a running attack.
The Lions came into the game allowing 142.5 yards per game on the ground, the third-worst total in the league, and yet Howard only got 11 carries in the contest. Tarik Cohen only had seven, but it seems pretty obvious at this point that the Bears' offense is not going to really run through Howard, and that's unfortunate because of just how good he is out of the backfield.
Some Perspective on Cody Parkey
Coming into Sunday's game, Parkey was 13-of-16 on field goals this season, and hadn't missed an extra-point in 28 tries.
That obviously did not translate into any success for Parkey on Sunday, as he missed two field goals and two extra points, drawing boos from the Soldier Field crowd.
Even though his performance was absolutely awful, Bears fans can take a small bit of comfort in the likely event that the team holds onto him going into next week's showdown with the Vikings: Packers kicker Mason Crosby missed four field goals and an extra point against the Lions on Oct. 7, and has proceeded to make his next seven field goals and eight extra points since. That includes three kicks from beyond 40 yards, so it is possible for Parkey to bounce back.