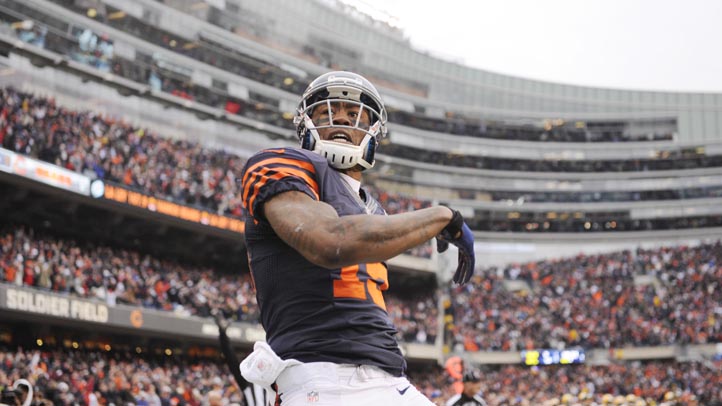 Bears four-time Pro Bowl Wide Receiver Brandon Marshall was given an excused four day absence by the Bears starting Wednesday. It comes one day after he voiced his frustrations with his performance after a third hip surgery in January left many to wonder just how planned the absence was.
"This has been planned since early in training camp, even before, that he would leave after yesterday's practice and will be back on Sunday," Bears head coach Marc Trestman said Wednesday.
As a matter of fact, NBC Chicago confirmed Marshall is indeed having a routine followup seven month exam after hip surgery. The Bears, Marshall and his physicians all agreed on this date months ago.
Still, numerous media outlets reported the timing as suspicious, with one national outlet reporting that Marshall was unhappy with the Bears not taking his concerns serious enough.

No. 15's agent doesn't want to hear any of it.
"Any other suggestions, implications or thoughts by any media outlets are all unfair to Brandon and the Bears," Marshall's agent Kennard McGuire told NBC Chicago.
As for Marshall's frustrations about his performance and lack of conditioning, "Brandon is accustomed to executing and playing at a high level, and being a perfectionist that he is, his expectations of himself are very high" McGuire said. "Anything less than elite is unacceptable."

Those thoughts echo what Trestman thought too.

"He had a very good practice on Tuesday. He ran well, ran his routes. He took his reps. He finished," Trestman said, adding: "He's worked very hard. We saw that in training camp. .. We've just been mindful of where he's been at with his hip and try to measure him in practice accordingly."
Marshall has at least 1,000 yards receiving in each of the last six years, rewriting the Bears record books in 2012. He has two years and $18.6 million remaining on his current contract and is likely in line for an extension.

Bears General Manager Phil Emery has reiterated there will be no contract extensions during the season.
Trestman said Marshall will return Sunday and be ready for the opener against the Bengals in nine days.