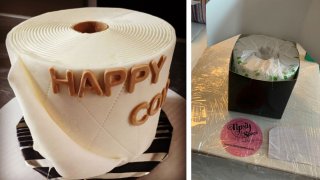 Celebrating a birthday or anniversary while self-quarantined amid the coronavirus outbreak? There's a Chicago bakery that wants to help your cake truly commemorate the occasion.
TipsySpace, a bakery in Chicago's West Town neighborhood, offers custom cakes in the shape of toilet paper rolls that feed 10 to 15 people.
With a price tag of $100, the cake comes wrapped like a roll of TP with a custom message.
Choose from five types of cake -- Vanilla Cake Dense and Rich, Vanilla Cake Fluffy, Portilliosesque Chocolate Cake, Lemon Cake and Confetti Cake -- and three filling flavors -- Italian Buttercream, Chocolate Ganache and Cream Cheese Frosting.
Available for delivery or curbside pickup, the cake also comes with a complimentary roll of real toilet paper.