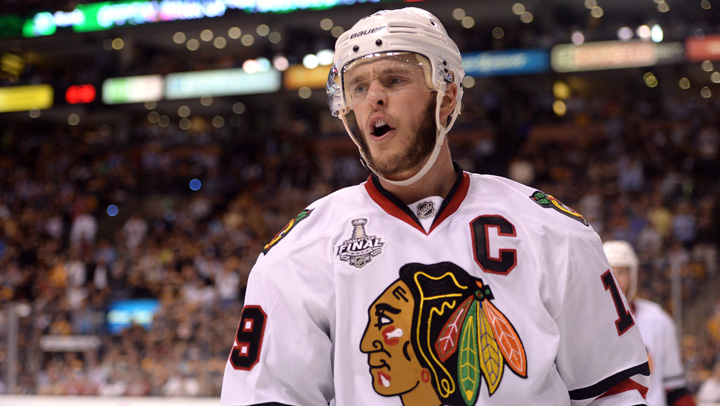 For all the headlines surrounding the play of goaltenders Tuukka Rask and Corey Crawford in Game 4 of the Stanley Cup Final, the story of how poorly Boston Bruins defenseman Zdeno Chara played against the Chicago Blackhawks has largely flown under the radar.
Until now.
That is because in the lead-up to Game 5, both Jonathan Toews and Bryan Bickell have been talking about Chara to media members, and Bruins head coach Claude Julien is none too pleased, as relayed by CSN New England blogger Joe Haggerty:
"They're allowed comments, and if that's what they think then they should try it again. A lot of people have tried to figure out Zdeno. With the type of player that he is and people talk about five goals against, were [the goals] his fault?

"None of them were his fault, actually. It's just one of those situations where he's one of the best players on our team, he's one of the best defensemen in the league and I don't think there are too many flaws in his game. My only response is that my player is going to be good and ready tonight, and they can try it again tonight if that's what they think."
Obviously, Julien is upset about something that a Blackhawks player or players said, but what was it? Haggerty didn't include it in his article, and there's likely a good reason for it: it wasn't exactly a stinging insult. Here's what Toews had to say, courtesy of NHL.com:
"There's certain ways you can expose him. The dump-ins that we made [in Game 4] were going to his side. We made sure we were outnumbering him everywhere we went, taking away his stick first. We just try not to be intimidated by his size. We can outwork him, and we did that."
A player saying that he and his teammates are capable of outworking another player could be construed as a slap at Chara's work ethic, but it seems highly unlikely that the Hawks feel that Chara is a lazy player. Bickell's own words in his blog seem to refute that notion:
"To see his work ethic and how physically strong he is, it was just amazing. His body fat is like 4 or 5 percent. He eats healthy and it pays off because he is a beast….

"Chara is a big man. He covers a lot of ice. He's the best defensive defenseman in the League today. But we need to wear him down and I need to hit him at any chance I get to slow him down and get him out of position. The battle with him for position in front of the net is difficult but I need to stick with it because I know if both of us get to the front of the net that plays to our advantage."
Obviously, teams are always looking for an edge in a series. The Blackhawks almost certainly used the motivation of a slew of hockey experts picking against them in this series despite the fact they had home ice advantage, and that's exactly what Julien is doing here.
The fact of the matter is that if you aren't trying to outwork an opponent, then you aren't going to win very many games. The real meaning of what Toews said is obvious, and Bickell's comments hammer home how much respect both players have for Chara. Boston fans and Haggerty himself may think that this molehill is actually a mountain, but the truth is that there is no smoke here, much less a fire.
Mixed metaphors aside, this story is a tame one at best, and it will be a non-issue once the puck drops.