Now that the year is over, Chance the Rapper has revealed a secret he kept for nearly all of 2018.
In recapping 2018 in his Instagram Stories, the Chicago rapper mentioned pulling a man from a burning car and saving his life after witnessing an accident in the city on Easter Sunday.
"Ay so I never told this to the world but my friends can merch," he wrote on an Instagram story recapping his year. "I saved a persons life by myself on Easter Sunday this year omw To church. NBS on everything."
The story was accompanied by a photo of badly mangled vehicle.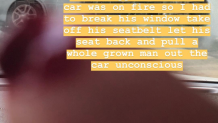 "Basically I was driving to church dolo, about to go south on lakeshore and another car drives into the wall in front of me goin like 90mph comin off the exit," he wrote. "I was the only person out there when it first happened and his car was on fire so I had to break his window take off his seatbelt let his seat back and pull whole grown man out the car unconscious."
Chance said two older men also helped pull others from the vehicle once he opened the doors.
A photo appearing to show Chance at the scene has also been circulating on Twitter.
The rapper later responded to the tweet writing, "A kid DM'd me saying it was his uncle and that he lived!!"
Further details on the man in the accident weren't immediately known.
Looks like fans can now start calling him Chance the First Responder.