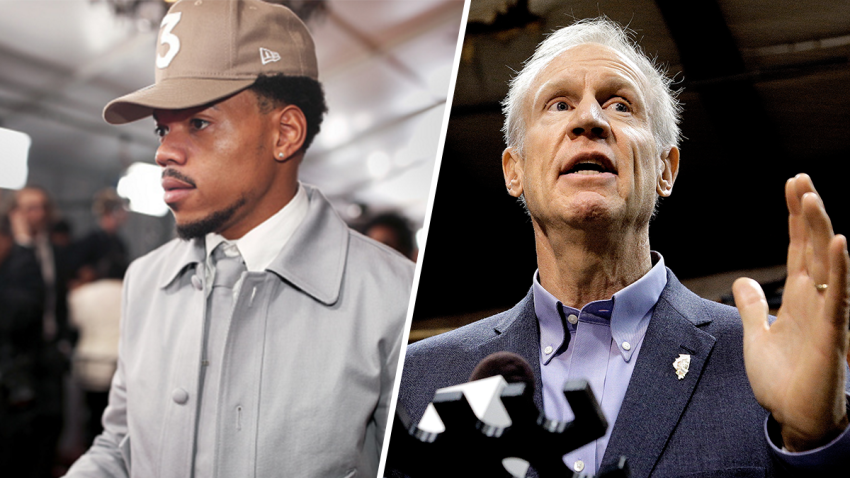 Soon after Chance the Rapper tweeted Thursday that Gov. Bruce Rauner hadn't rescheduled a meeting to discuss education funding in Chicago, the rapper updated that the meeting would now take place Friday morning.
"The Governor and I are now scheduled to meet Friday morning, I'm more than appreciative of him taking the time to discuss funding CPS," the rapper wrote Thursday afternoon.
The tweet followed an earlier message that read, "As of right now, my meeting with @GovRauner is still 'cancelled' [sic] with no new info on a reschedule."
The meeting was initially scheduled to take place Wednesday.
The governor's office said Rauner has been preoccupied this week responding to deadly tornadoes that tore through parts of Illinois Tuesday night, but still plans to meet with Chance, real name Chancellor Bennett.
"[Rauner] is meeting with families who lost their homes and thanking first responders for their service," Rauner spokeswoman Eleni Demertzis said in a statement. "He looks forward to hearing from Chance and we have reached out to his team to reschedule our meeting," Demertzis added.
The governor canceled Wednesday's meeting with Bennett to survey storm damage in LaSalle County. He's scheduled to travel to White and Jackson Counties Thursday to further assess the fallout.
After winning three Grammy awards last month, Rauner took to Twitter to congratulate the rapper on his historic haul.
"Congrats to @Chancetherapper for making history as an independent artist and taking home 3 grammys," Rauner tweeted at the time. "IL is proud that you're one of our own."
Bennett responded, requesting a sit-down with the governor.
"Thank you Governor," he tweeted. "I would love to have meeting with you this week if possible."
Rauner quickly accepted Bennett's invitation, noting that he was "looking forward to the conversation."
However, several GOP lawmakers reached out to NBC 5 questioning whether Rauner has listened to lyrics from some of Bennett's songs and wonder if he's an appropriate adviser on education matters.