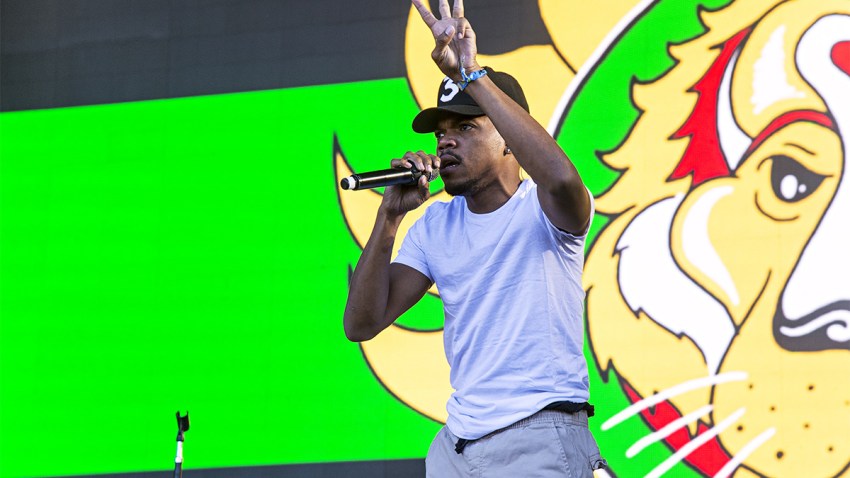 Chicago musician Chance the Rapper is teaming with the National Association for the Advancement of Colored People to register concertgoers to vote during stops of his upcoming Magnificent Coloring World Tour.
Chance, whose real name is Chancellor Bennett, kicked off his tour Saturday in Los Angeles. Registration drives are set to begin Saturday during the Magnificent Coloring Day Festival at Chicago's U.S. Cellular Field. Chance is hosting the event which features scheduled performances from John Lennon, Alicia Keys, Lil Wayne and others.
"Proud to announce I'll be teaming with @NAACP for #magnificentcoloringworldtour to bring Voters Registration to the show #staywokandvote," Bennet tweeted last week.
The NAACP lauded the rapper in a press release announcing the initiative last week.
"Chance the Rapper is an artist whose music praises and lifts up our common humanity, and whose call for action speaks to the yearning of this moment," NAACP President and CEO Cornell Williams Brooks said. "This year, more than it has in a generation, we must use the power of our voices and our votes to exercise our sacred right to vote."
Chance is the son of Ken Bennett, who serves as the deputy chief of staff and director for Mayor rahm Emanuel's Office of Public Engagement. The elder Bennett has also worked for former Chicago Mayor Harold Washington and President Barack Obama.
"Voting and becoming knowledgeable about this year's upcoming presidential election is imperative," Chance said in a statement. "With a great deal of help from the NAACP, I have been able to provide this awesome opportunity for people to sign up and make the pledge to vote at a few of my upcoming shows."
"This is super important to me because I want my fans to know that their voices matter and that their vote counts now more than ever," he added.
Registration drives will also be held at Chance's concerts in Fairfax, VA, Raleigh, NC, Atlanta, GA, Miama and Tallahassee, FL, New Orleans, LA, Houston and Dallas, TX and San Francisco, CA.