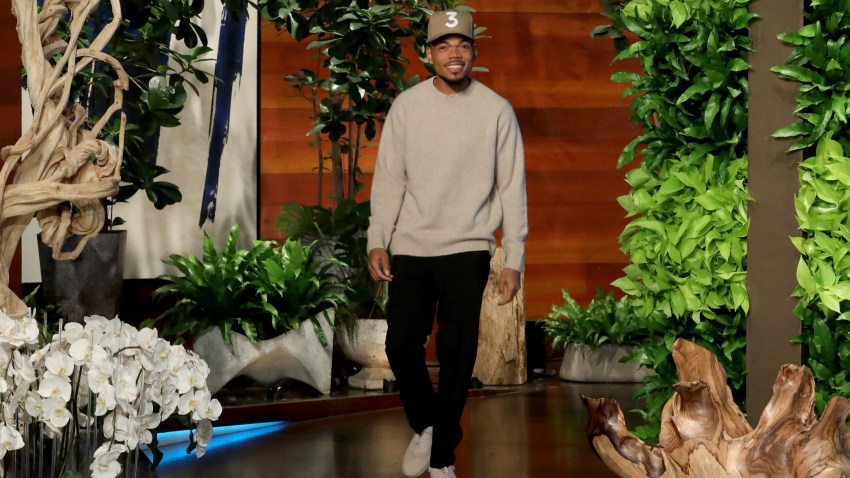 What was once three is now four for Chance the Rapper.
The Chicago star made his first appearance since unexpectedly postponing his upcoming tour, which was scheduled to begin this week, discussing his new baby and the reason behind his surprising decision.
"I have a fresh, fresh baby," the now-father of two said on the "Ellen DeGeneres Show" Wednesday, one week after the child's birth.
"I love her, so that's dope," he added.
Chance announced earlier this week that he was postponing his "The Big Day" tour, set to kick off Saturday. The tour will now begin in January.
"When Kensli was born, I went on tour 2 weeks later and missed some of the most important milestones in her life, but more importantly I was absent when her mother needed me the most," he wrote on social media along with a photo of himself with his two daughters. "At this point as a husband and father of two I realize that I can't make that mistake again. I need to be as helpful and available as possible to my wife in these early months of raising Kensli and Marli. I apologize because I know how many people were counting on seeing me soon, but I hope you'll understand and forgive me in time."
Chance also talked to DeGeneres about his now-wife, Kirsten Bennett, sharing a heartfelt story about their relationship.
The rapper, whose real name is Chancellor Bennett, revealed the two actually met when they were 9 years old.
He said he was at a holiday party for his mom's work at a real estate business. Kirsten Bennett's mom also worked for the company and she performed a choreographed dance at the event.
"I saw her dancing and I was like 'let's get married,'" he told DeGeneres.
Fast forward to December 2018 and the pair were in fact married, with their wedding officially taking place on March 9, 2019.
DeGeneres then presented Chance with a box of overalls, one for each member of his family. And new gear replacing the rapper's famous "3" with the number four.
"This is actually so cute," he said before performing "Eternal" for the audience.