It's usually not advisable to fall behind three times in an NHL game. It's even less advisable to do it against the Predators, who normally leave as much space on the ice as the fat guy in the middle seat on the airplane. However, the Preds have some issues at the moment, and the Hawks were only too happy to plow through into the aisle as soon as it became available.
These days, when Shea Weber and Ryan Suter aren't on the ice, the Predators have a hard time getting out of their zone if you can get them back there. Repeatedly Monday night, the Hawks pinned them down and created chance after chance. Nashville can thank Pekka Rinne for keeping this as close as it was. While they themselves weren't safe-deposit-box tight, the Hawks don't need too many invitations when a team is defensively sloppy.
Corey Crawford will not remember this night fondly. He whiffed on a dump-in in the first minute, leaving a simple tap in. Though it came on a two-man disadvantage, Patric Hornqvist's second goal was a change-up that he really should have had. And the fourth was a rebound kicked right in front. But he made the saves on breakaways to make sure the Hawks still could come back.
What's encouraging is the Hawks have made a habit of scoring in the first and last minutes of periods, which really swings momentum. They've also shown heart to overcome 3rd period deficits. Even better, aside from Carolina they've essentially owned the 3rd period in their past few games, blowing the Ducks, Jackets and now Preds away. Sadly, two of those got to OT when they really shouldn't have. But that will be corrected.
Good stuff. Two games against the struggling Florida teams, clear in first by three points. And then the season kicks off for real with the first visit of Vancouver on Sunday. Time to hop aboard.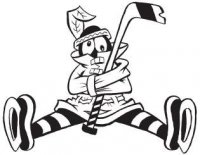 Sam Fels is the proprietor of The Committed Indian, an unofficial program for the Blackhawks. You may have seen him hocking the magazine outside the United Center at Gate 3. The program is also available for purchase online. Fels is a lifelong 'Hawks fan and he also writes for Second City Hockey .