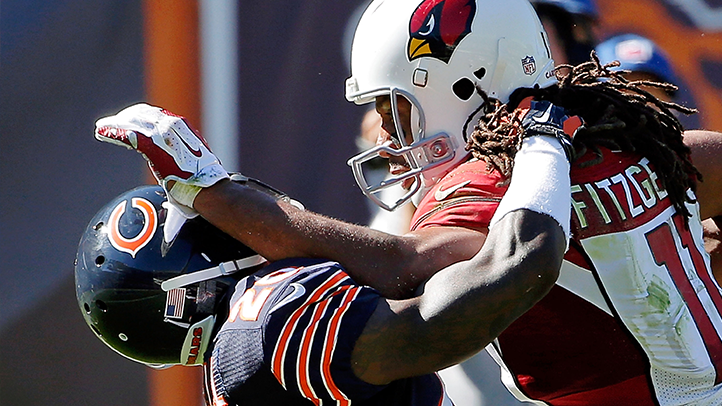 If the Chicago Bears' closely contested Week 1 loss to the Green Bay Packers felt like a step forward, their Week 2 annihilation at the hands of the Arizona Cardinals felt like a cold slap of reality.
While it wasn't easy, we have come up with the three negative elements of the Bears' performance that stood out most to us, and help inform us as to what exactly this team needs to focus on improving.
Bears' Secondary Continues to Struggle
The Bears' secondary was routinely gutted by Aaron Rodgers in Week 1, but that was at least understandable as the team went against arguably the best quarterback of his generation. In Week 2, it seemed as though the team took a collective step back again, as Carson Palmer threw for 185 yards and four touchdowns against Chicago.
Kyle Fuller looked especially lost in the game, getting whistled for a bad pass interference penalty and surrendering a ton of yardage and catches to Larry Fitzgerald in the game. Things got so out of hand for Fuller that he was benched at the end of the game, with Terrance Mitchell stepping in at the cornerback slot before being railroaded by Fitzgerald for one final insult.
Needless to say, teams are going to pass on the Bears all day if they can't step up their level of play in the secondary. Some will point to the team's lack of pass rush as a reason the secondary is struggling, but not one player among the Bears' cornerbacks or safeties has stepped up when it's necessary, and their complete lack of skill in terms of going after the ball is a sobering thought when one realizes that there are still 14 weeks left in the season.
Bears Need Answers at Right Guard
Committing a penalty is not the end of the world for an offensive lineman, but when you commit as many penalties as Vladimir Ducasse has at right guard for the Bears, then you run into an issue that needs to be resolved.
With Kyle Long moving out to right tackle for the start of the season, the Bears needed a player to step up and fill the guard role, and Ducasse simply isn't doing a good enough job. It would be one thing if he was a complete NFL novice and had never seen the field at the professional level, but he has and he still isn't showing the type of skill necessary to succeed at his position.
Needless to say, the Bears have got to try to find another solution to this issue. They could try kicking Long back inside and insert a guy like Charles Leno Jr. at the tackle position, but now that the team has made the decision to move Long outside, they are likely stuck with that for the rest of the season as they work on his development (and toward his ultimate destination, which would seem to be replacing Jermon Bushrod at left tackle).
All things considered, G.M. Ryan Pace will likely be looking at the waiver wire as the Bears look to solve this line issue.
Special Teams Questions Remain
A favorite punching bag for Bears fans last season was the team's abysmal special teams play under coordinator Joe Decamillis. He is gone from the scene with the new coaching staff in place, but Jeff Rodgers and company haven't been all that impressive so far this season.
Seeing David Williams break out a 108-yard touchdown return on Sunday was a blow that the Bears seemingly couldn't recover from. Several players jumped into incorrect lanes on the kick-off, and they may as well have rolled out a red carpet for Williams as he scored the longest touchdown that the Bears' special teams unit has ever given up.
Granted, this was just one play, and Robbie Gould has been perfect thus far this season on field goal attempts, but the special teams unit still has plenty of work to do as they try to become a contributing part of the Bears' roster.