Whenever a friend who isn't a hockey fan asks me why I love the sport so much or what attracted me to it, I tend to talk about the emotion of it, the feeling, or at least what the feeling used to be and the game can still hint at even in these somewhat watered down times, of danger.

It's a dangerous thing to watch hockey, to be in the stands with the adrenaline and bile running so high. Only dangerous people can handle it. It's the same feeling one might have gotten seeing Ozzy Osbourne in 1981.
Wednesday night's game against the Canucks was the perfect showcase for that.
Games between these two teams are always passionate and raucous affairs. They only need a match to ignite into something Faustian. It got a stick of dynamite tonight, when both Daniel Sedin and Duncan Keith took turns trying to spill each other's brain out on the ice through their ears. While Sedin's original hit on Keith wasn't above board, Keith's return was straight up dirty and will see him suspended for at least one game. It had nothing to do with hockey and was an attempt to injure. It has no place in the game.
But because of it, the game kicked off to a new level, with two teams who can't stand being on the same sheet of ice together doing everything they can to beat the other one. It was nasty, it was bitter, it was desperate. Most of all, it was wonderful.
It's so funny how even this game ended the season series that was so even before it. Both teams had a string of power plays at one point when the other lost their mind. Neither could make them count. Each had strings of dominance over the other but didn't dent the scoreboard thanks to the goaltender. Both skated hard and physical, and couldn't make the other team wilt.
It ended with a nifty play from Dave Bolland to Johnny Oduya to bank one off Andrew Shaw, which is perfect as the last game between these two saw Bolland lose Daniel Sedin for that OT winner.
In the end, the Hawks have won their fifth in a row and taken their 16th and 17th point of 20 available in March. They're 10-4-1 without their captain. They once again showed guts and heart to pull out a game they trailed in. They were defensively sound, and their penalty kill, if not their power play, kept them from getting beat.
As for these two teams, they both will sport a 2-1-1 record from the season series. And the feeling from everyone is that they're probably not done playing each other this season. And that will be torture.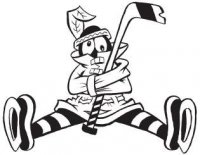 Sam Fels is the proprietor of The Committed Indian, an unofficial program for the Blackhawks. You may have seen him hocking the magazine outside the United Center at Gate 3. The program is also available for purchase online. Fels is a lifelong 'Hawks fan and he also writes for Second City Hockey .