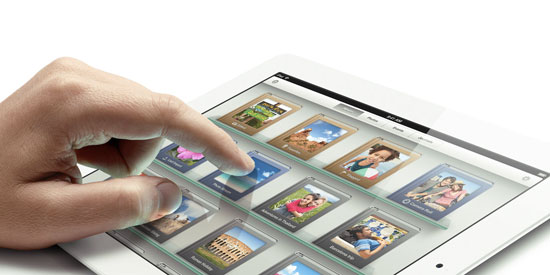 Why not? Looking at 80 percent of my day-to-day, most everything outside of my web development and design projects are easily iPad friendly.
Take a step back from your desk, your to-do's and the applications you're using. Taking a birds' eye view of what we do everyday, it's clear those apps concentrate on three areas: collaboration, communication and productivity.
Steven Collens, SVP at Pritzker Group and an avid iPad user says, "It allows me to have everything I need with me at all times, without having to carry a weighty laptop and reams of paper."
It's not the easiest transition to make, going from a personal computer to an iPad, but it can be worthwhile in both portability and cost. In practical use, iPads are suggested to be greater at consuming content and less so for creating it. That mentality is quickly changing. Thanks to Apple's own applications and countless others, more and more of what we handle on a daily basis can be consumed and created from an iPad.
Here are some of the applications that work best for us at Code Academy:
Collaboration
Sharing files across multiple devices used to require email, attachments or worse. Today, thanks to cloud-sharing services like Dropbox and SugarSync, simply adding files to an existing folder sends it across multiple locations and people with ease. Both Dropbox and SugarSync offer great iPad-specific applications to access and sync files. Even better, more applications are adding interoperability, allowing users to send files from one iPad application to another. So if you receive an email with an attachment, save it to your Dropbox application.
Basecamp from 37signals, if you're unfamiliar, is a web-based application for project management. It recently released a completely new, revamped version of its product, and now it's better than ever. It's a tool we rely on heavily to collaborate across multiple staff members and projects. It's a no-brainer to use, and while it's not mobile-optimized for the iPad's browser, it continues to function well for oversight and feedback.
Communication
Perhaps the most obvious and most valuable tool in your workflow is email. Staying in touch isn't hard when you rely predominantly on email. Thanks to Google Apps, our entire staff has shared calendars, push email and everything else you'd expect from a proper exchange service. It all syncs amazingly with iOS's default Mail and Calendar applications.
Campfire, another 37signals product, is an online private chat-room. We have multiple rooms, one for our staff specifically, and an open room for all our students and alumni to communicate in. It's the best for quick feedback, helps remove the need for a ton of email and often leads to some really exciting interactions between students and mentors. Currently there's a great iPhone Campfire application which can scale well enough to the iPad screen size and keep you notified with pings and messages as they come in.
For instant messaging/SMS, I rely on Verbs and iMessage. These I rarely leverage, seeing as between Campfire, email and in person most of our communication works just fine. For whatever reason, if I'm out of the office and need to quickly communicate something, there's no better way than relying on either IM, SMS, or Twitter. Push notifications are quick, seamless, and easily noticeable. If anything, not having an IM screen open constantly as you do on desktops promotes a more productive workflow.
Between these applications and retaining a mobile feel with the iPad, I'm succinct, and selective about my communication. It becomes its own self-managing tool.
Arvin Dang works with Code Academy, a three-month, beginner focused, hands-on course to learn Web Design & Web Development in the heart of Chicago. All we ask is that you're passionate and have ideas. We'll teach you how to build them. Apply today, or tweet us @codeacademy.