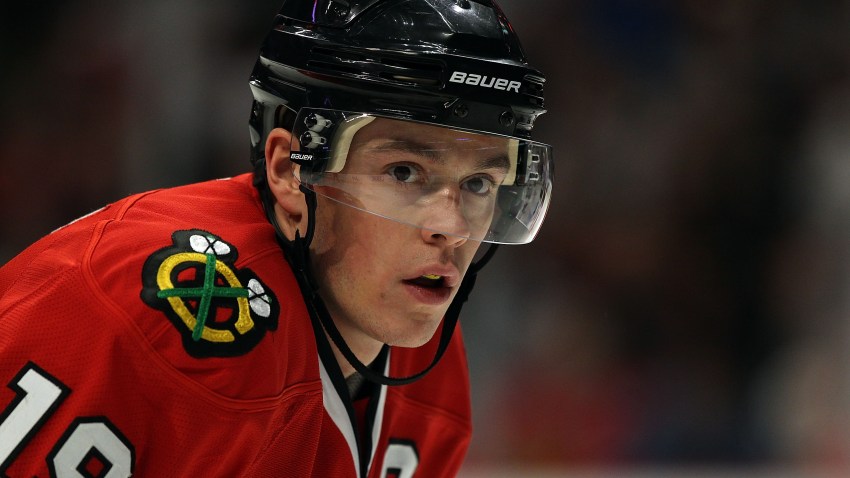 Chicago sports fans love their "M-V-P" chants.

They've been raining down on Derick Rose since the preseason, which seems a little farcical. Paul Konerko heard them this past summer. Derrek Lee got his fair share in 2005 and 2009.

I don't know where this stems from. Maybe it's the inferiority complexes instilled from more media coverage of players on each coast. Maybe it's the fact that Michael Jordan didn't win it every year, which is kind of stupid when you think about it. Well, not kind of, incredibly so. Who was more valuable than Jordan?
Well, on Friday they began to shower Jonathan Toews as well. The horn's volume was turned up by a couple writers around town as well.

A month ago this would have been a ridiculous idea. But a winning streak and a scoring binge do funny things to perceptions. How viable is Toews for the Hart Trophy?
Well, it's hard to believe that a player who went missing early in the season can win the award. While Toews was hardly as guilty as some in the Hawks' early-season malaise (*cough* Duncan Keith *cough*), Tazer wasn't the dominant force we've come to know and expect during his first three years.
Sure, he shrouded himself from criticism by being available to the media and saying all the right things. But there were more than enough nights when Toews didn't win the board battles he did, didn't will a goal when his team needed it, and didn't backcheck like the hellion he is.
But that's over now. No one is playing better hockey than Toews right now, and 27 points in 17 games is a straight-up silly haul. If Toews can keep up this scoring pace and lead the Hawks to the 4th spot in the Conference, he has to be at least considered. But can he win it? Doubtful.
Sidney Crosby would have walked with this award if he hadn't gotten hurt. But since he's seeing blue birds and yellow stars in a darkened, silent room, the race has been thrown wide open.

The Vancouver Canucks have three candidates in the Sedin brothers and Ryan Kesler. To me, Kesler is the choice from that troika, as his 33 goals are second in the league and his wolverine-savage play has helped the Canucks to the best record. Without him the Canucks could still be considered a one-line team.

Henrik Sedin won the award last year, which always carries some cache, and Daniel is leading the league in points. Voters often are attracted to the point-leader and the best player on the best team when voting for this, something Toews won't get to claim.
Now whether these three cannibalize each other's votes depends on how the voters see this award, or the semantics they use to vote on it. If you define it as simply the best player that year or the most valuable, to me Kesler wins it, because he's simply been everywhere.
Who else? Well, Steven Stamkos leads in goals and spearheads the surprising Tampa Bay Lightning. Voters love a good story, and if Stamkos breaches 50 goals - a still hallowed mark - he's going to be a finalist for sure.
A Red Wing always gets consideration, and with Henrik Zetterberg fifth in the league in points, he'll get some attention -- especially with the injuries the Wings have dealt with, not all of which are overblown (though Osgood and Modano being out really doesn't matter).
It's going to be hard for Toews to crash this party. Stamkos and the Sedins have been touted all season, even when Crosby was healthy, and it's hard to keep that buzz from entering voters' minds.
Kesler is a late entry as well. What Toews does have going for him is being the latest to mount a charge, and he'll be fresh within the craniums of those who vote. If he keeps up this pace, the bet here is that he's a finalist but will lose to one of the longer present candidates, probably Stamkos.

People love that 50 number.