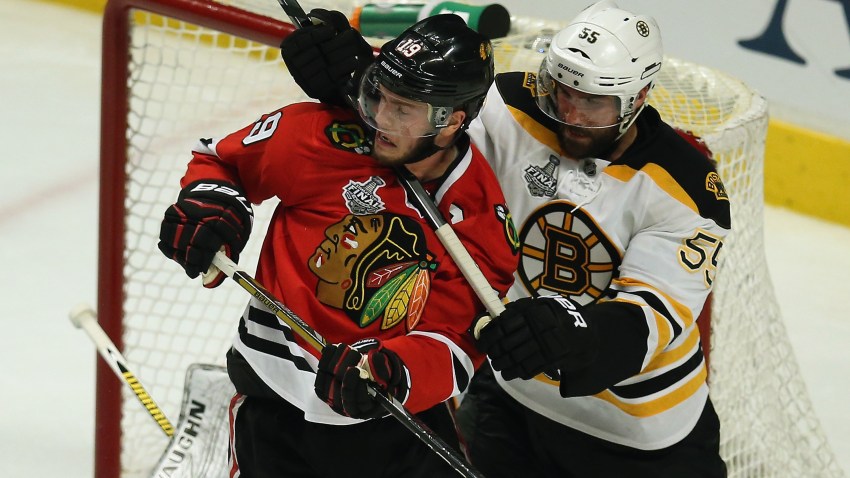 As the Chicago Blackhawks made their way through the Stanley Cup playoffs, the narrative of the "struggling star" has been a popular one among writers and bloggers looking for content and hits.
Patrick Kane was the subject of a lot of that criticism until his recent goal-scoring barrage in the Western Conference Finals, but throughout the postseason, no player has been under more scrutiny than Hawks captain Jonathan Toews.
Whether it was for his comments about the officiating in the Detroit series, or the comments made by Minnesota Wild head coach Mike Yeo that Toews was "cheating" on faceoffs, or surprising discipline issues in that second round, Toews has been under the microscope for just about everything.
Obviously, a lot of that is inevitable, because he is the leader of the Hawks, and as one of the highest paid members of the team, he is held to a high standard by media and fans alike. His one goal and eight assists during the postseason aren't awful numbers (especially in comparison to what players like Dave Bolland and Viktor Stalberg have been producing), but they are rather pedestrian for a guy who won the Conn Smythe Trophy in 2010 by racking up 29 points in 22 games.
What seems to be getting lost in all of this hoopla about Toews' play has been just how dominant he has been in other areas. Game 1 against the Bruins was a perfect representation of that, as he racked up a team-high +31 Corsi in the game, as well as a +21 Fenwick. Even though the puck isn't going in the net for him, he is not only playing incredibly well defensively (something even his most ardent critics will acknowledge), but he is also helping his team generate a lot of scoring opportunities with all of those shots.
While Toews is generating some push offensively despite his low numbers, there is a reason he isn't able to convert as much as he's used to. During the Hawks' 2010 Cup run, the team was incredibly deep at the center position. With guys like Bolland and John Madden playing at a high level, it didn't allow the opposing teams to structure their defensive matchups to take Toews away at all times.
In this postseason, however, that tune has changed. The Hawks are relatively thin at the center position, and therefore most of the onus for a team's quality defensive centers has been to shut down Toews. The matchups themselves have exacerbated that factor as well, with Selke Award winner facing off with Toews in the second round, a perennial Selke contender in Anze Kopitar and the other talented Kings centers in the third round, and now with Selke nominee Patrice Bergeron in the Cup Final.
Having to go up against that kind of murderer's row of talent would be hard for any center, but it has been especially problematic for Toews. He would be the first person to admit that he needs to do better offensively, but it hasn't been a matter of him not trying hard enough. He still has the North-South speed to excel in this game, and it's only a matter of time until he can begin to convert with more regularity.