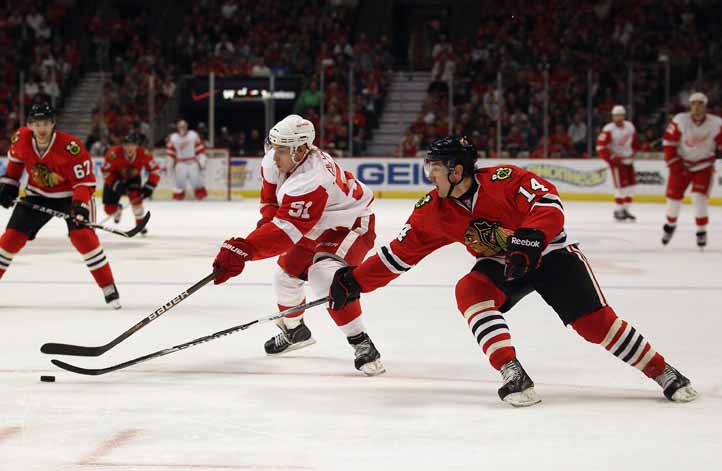 Ah, that wonderful time of year when probably about a quarter of the roster heads into the shop for upgrades and replacements.
But this wasn't the first one we expected to hear about: Defenseman Chris Campoli underwent surgery Tuesday for a torn meniscus. He won't miss any off-season workouts, since it looks like he'll be able to start skating again in two months. Whether that's in preparation for training camp with the Hawks or not, we'll just have to see.
We've been speculating on who was carrying injuries in the playoffs and the end of the season, and a lot of names came up, but none of them were Campoli's. Toews was at the top of the list, with Kane admitting his ankle wasn't up to snuff. Hossa's name got bandied about, and we know Kopecky is still hurt. Seabrook could possibly still be dizzy, and Bolland admitted he wasn't all the way back and needed the summer to clear up. People were whispering all season that there's something up with Niklas Hjalmarsson, and Brian Campbell couldn't have been anywhere near 100 percent. Nor was Troy Brouwer. God, this list keeps going.
Which makes Campoli's performance even more impressive, though how much is up to your discretion. An injury that keeps him off the ice for two months is significant, but it probably wouldn't have been that long in-season. As for how it affects his free agent status, that's hard to know for sure. Certainly it doesn't raise his price. How big of a priority he is also is up in the air, though Stan Bowman is unlikely to lose an acquisition of his unless he has to.
If this is your first go-around with the Hawks, this is commonplace. Teams, especially the Hawks, are loathe to release any injury info during the season. That's why you get the farcical "upper-body injury" even if you've clearly seen the guy's brain exposed on the ice, or "lower-body" when his knee-cap actually leaves the leg and walks out of the arena on its own.
Why? Probably for fear of opponents taking dead aim with blocks of wood on any suspected injury. But the Hawks take it to a new level, possibly to avoid questions about the treatment. Even though Seabrook obviously had a concussion after Raffi Torres' hit -- and others in the past -- you never heard the Hawks use that term. If they did, someone may have been tempted to ask why he was brought back so soon, and the danger of that.
Which makes you wonder why they release the surgery information after the year. Butt-covering? Maybe. Excusing sub-par performances? More likely. But that's not just on the Hawks. If a guy has shoulder surgery and the team announces it, they could put together a press release that basically says, "See? Our GM isn't a complete doofus for acquiring this guy, he was hurt! You'll see how good he is and what a genius our GM is when he's healthy!"

Not that Campoli was bad or this is exclusive to the Hawks, but you get the idea.