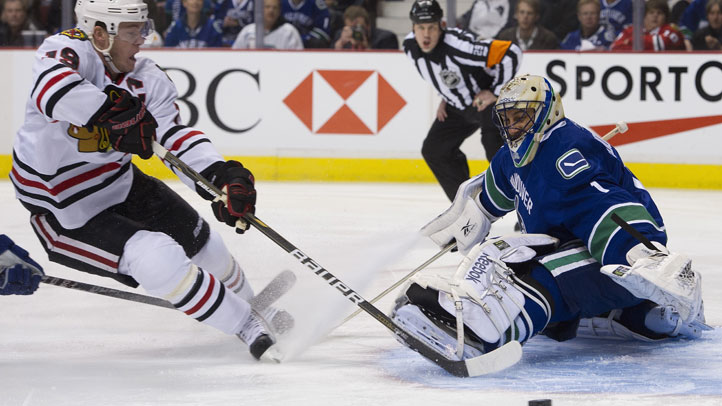 And the cars Hawks fans are specifically radioing in for are labeld 19, 81, and 88. And if they can find the 10 car another knee, that would be ok too.
One problem we all didn't think we'd have is wondering where our front line players went. The most likely scenario was that they'd do enough to keep us in the series for a while, but the lack of support and the overall depth of the Canucks would eventually prove too much.

If you had told us that they would all Houdini it, we'd have wondered if this series would have even made it to the minimum four games. Here we are.
There are so many different answers as to why. Perhaps the newfound discipline and structure of the Canucks has snuffed them out. Or maybe the taxing minutes they were forced into the last month has sapped their legs.

Maybe it's both.

But seeing as how they're all under the age of 27, that latter one is hard to believe, and the former faces some skepticism as that's not Ray Bourque and Nicklas Lidstrom back there. Or maybe we're just in denial.
But whatever it was, the Hawks were again just short, and find themselves in what looks to be a hole that's not letting a whole lot of light in.

While some declared the first period another trip to the whipping post, it didn't look that way from here. It wasn't vintage stuff, that's for sure. But aside from both Nick Leddy and Ben Smith being the velvet rope to Jannik Hansen's stroll into the nightclub of the centering pass into the Hawks slot, and a post from Mayson Raymond, it was a tight and cagey affair.

The Hawks were consistently getting it deep in the Canucks zone, and doing their best to outwork from there. That's hard to do against this squad.
You can make an argument that the game was lost when the Hawks were the first to do something barely fathomably dumb, and that's Patrick Sharp taking a petulant and unnecessary penalty after a whistle.

While the attempt to show some snarl from a leader is admirable, this can't happen. Perhaps he was just frustrated from having to dig Hossa's and Toews's passes out of his skates all night.

Daniel Sedin converted early in the 2nd, and a two-goal deficit was always a mountain and a half.
But the Hawks unsung made a fist of it. Ben Smith became Lewis and Clark when he discovered the area directly in front of Roberto Luongo was uninhabited and made it count. Viktor Stalberg won a puck and just ripped one past.

But the Canucks always had an answer, be it Edler's shot tipping off Ben Smith's stick at just the right angle, or Duncan Keith and Brian Campbell deciding to be the Pointer Sisters and slink off to the back of the stage to only let the league's leading scorer have a rip from between the circles.

It proved too much. The Canucks are proving too much, because the Hawks stars are proving too little.
Notes:
-While the plaudits will go to Ben Smith for his two goals, he was on the ice for three against. Still, the kid is showing some serious guts and poise, and you can only hope it's contagious.
-Toews had no shots, Hossa had two. This is with a few power plays.
-The Hawks top four defensemen last night were just this side of awful.
-A lot will be made of the Canucks physical play, but more should be made of the Hawks inability to complete a pass. Are they connected? Probably. But it's hard to believe this team all of the sudden became jittery and timid, considering who the leaders are. Or supposedly are. And the ones who aren't afraid are the least likely. Michael Frolik is barely 5-10 and is getting crushed, but keeps coming back for more. Ben Smith is in his 8th NHL game. Troy Brouwer has one arm. Marcus Kruger was a healthy scratch for two weeks, and look more composed than a lot of people.
Hopefully today, the Hawks front line players spend a good amount of time looking inward. Either there's no gas in the tank, or these guys abandoned everyone else. It's hard to believe either scenario. But it's up to them if the Hawks are at least going to go out on their shields or completely humiliated.
Copyright FREEL - NBC Local Media