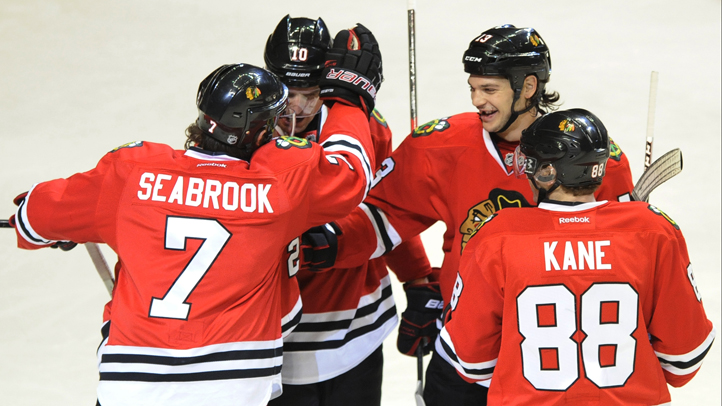 When the Hawks embark on the Circus Trip every year, it's usually a marker for what team they're going to be.
It's the first serious gauntlet of every season because you don't learn anything about a team until they're tested. This year, we have some answers but some questions too.
Here's what we know:
The Hawks basically go as Duncan Keith's and Brent Seabrook's performance and health dictate. It's obvious now that the two of them make each other better, which makes sense as their games have grown together and complimented each other for pretty much the entirety of their career. They've developed while playing together, so their games have grown in symmetry with each other. When they falter, the Hawks falter. When they play well, the Hawks will almost certainly have the better of the game (which they did in San Jose but didn't win), and will probably win (as they did in Vancouver, Anaheim, and L.A.).
Jonathan Toews will sometimes just win games by himself, and I think everyone's ok with that.
Patrick Kane is going to have trouble on the road when teams get their top lines out against him. This is part of the reason why Marian Hossa was switched back to his wing, to help out defensively. Kane, though his effort defensively has been fine, is just going to get overpowered by some top centers in the league. But he wouldn't be the first scoring center to have issues in his own end, and most likely he'll outscore his mistakes anyway.
The power play is not bad, and the penalty kill is not good.
Corey Crawford is in a slump. Right now that's all it is. if it goes on much longer, it's something more to worry about.
And here's what we don't know:
What is Niklas Hjalmarsson going to be? He's been very disappointing this year, afraid of contact -- either taking it or making it. He's skittish with the puck, and the Hawks cannot have anything but a rock on their second pairing. If his game doesn't pick up soon, the Hawks may have to go shopping for his replacement.
The bottom six hasn't found a way to contribute consistently yet, mostly because we don't know when Dave Bolland is going to decide a regular season game is worth the effort.
Why is John Scott still wasting our time?
All solvable issues, and probably this month with a home-heavy schedule.