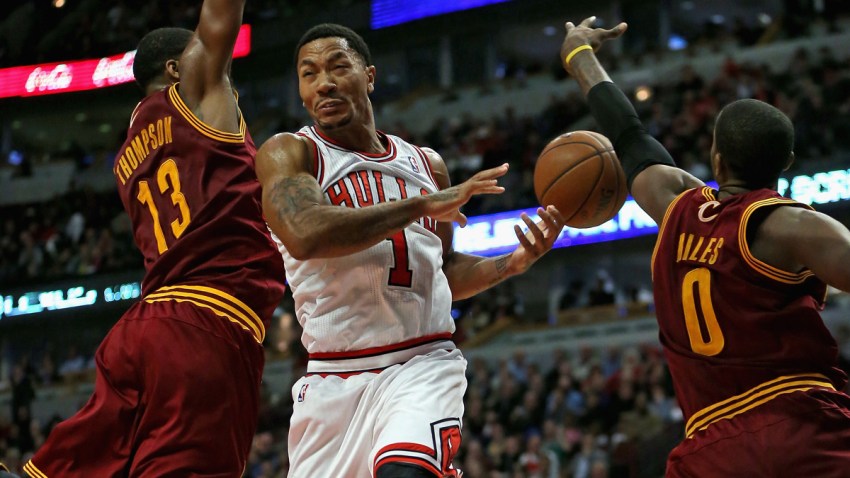 The Chicago Bulls moved to .500 on the season with a 96-81 victory over the Cleveland Cavaliers Monday night. The hype surrounding the first ever matchup between Derrick Rose and Kyrie Irving didn't quite live up to expectations as the two star point guards shot a combined 13-40 from the field.
Rose finished the game with 16 points (8-21 from the field), seven assists (a season high), and attempted no free throws in the game, and was pulled with just over three minutes to go in the fourth quarter with a hamstring injury.
Rose gave the Bulls seven-point lead on a late drive to the basket and could later be seen on television mouthing concerns about his hamstring.
Tom Thibodeau confirmed after the game that it was Rose's hamstring that sent him to the bench for the remainder of the night, but said the injury was "minor."
"He'll be evaluated [on Tuesday], but it looks like a minor right hamstring," said the head coach. "We called the timeout just to get him out – he tweaked it. When he gets reevaluated we'll have more information, but it appears to be minor."
All five Bulls starters scored in double figures, the first time since playing the Denver Nuggets in March. The Cavaliers were the third team the Bulls have held under 90 points this season, all resulting in Chicago victories.
Notables
Mike Dunleavy Jr. was 4-6 from the field, 2-3 from the three-point line and 5-5 at the charity stripe, scoring 15 points (season high) in 24 minutes… Kirk Hinrich tied Derrick Rose with seven assists… Joakim Noah scored 10 points and grabbed six rebounds… The Bulls bench outscored the Cavaliers 30-20…