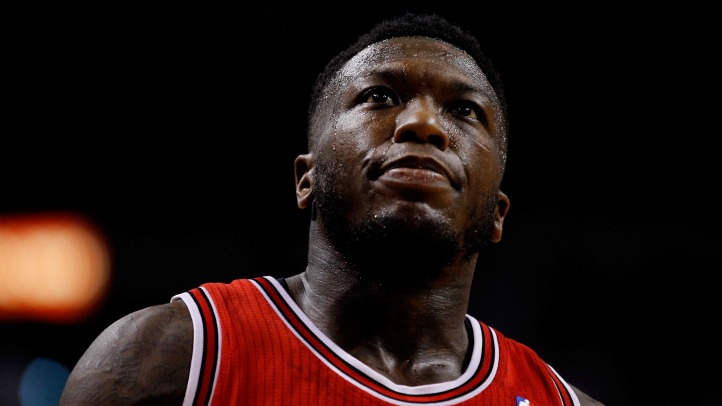 "He's got the heart of a lion." Those were the words Joakim Noah used to describe Nate Robinson who took 10 stitches to the upper lip after being crushed by LeBron James as the two were diving for a loose ball in the second quarter of Monday night's Game 1 against Miami.
"Being that small, and doing the things that he does, he gives us a lot of confidence. He's a hell of a scorer. He can really put the ball in the hole," Noah told CSN Chicago.
"It was just a hustle play that went wrong," Robinson explained. "But you've got to play through it. Got 10 stitches, but you've just got to continue to fight. You've got to muster up enough energy and enough fight to go in there and continue to play as hard as you can and produce for your teammates. They expect you to get stitched up and come back out there continue to battle, and that's what I did."
After the collision, Robinson got up bloodied and immediately left the court and returned to the locker room area for treatment. And once he came back into the game, he was a problem the Heat had no answer for.
"I told Doc, 'Just hurry up.' I'm not trying to rush him, but I wanted to get back out there. I think it was tied up at the half when I was getting my stitches and Coach just said, 'Be ready and come out when you're ready,' and I just told him, 'I'm ready now,' so he put me back out there and we got the job done."
Normal 0 false false false EN-US JA X-NONE /* Style Definitions */ table.MsoNormalTable {mso-style-name:"Table Normal"; mso-tstyle-rowband-size:0; mso-tstyle-colband-size:0; mso-style-noshow:yes; mso-style-priority:99; mso-style-parent:""; mso-padding-alt:0in 5.4pt 0in 5.4pt; mso-para-margin:0in; mso-para-margin-bottom:.0001pt; mso-pagination:widow-orphan; font-size:12.0pt; font-family:Cambria; mso-ascii-font-family:Cambria; mso-ascii-theme-font:minor-latin; mso-hansi-font-family:Cambria; mso-hansi-theme-font:minor-latin;} Follow Outside Shot on Twitter (@Outside_Shot) for more Bulls news and information