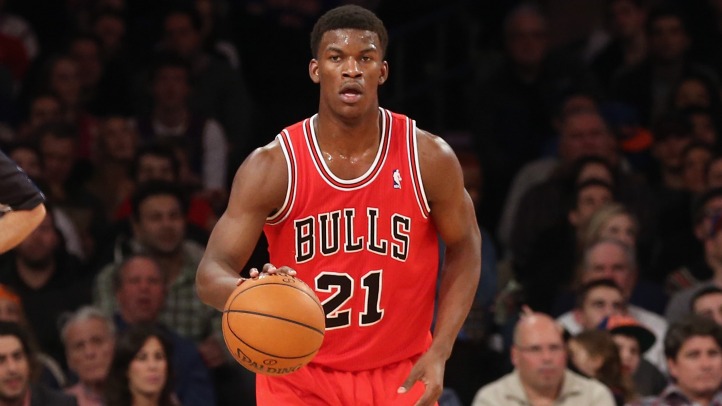 In case you haven't been paying attention, second-year Bulls swingman Jimmy Butler is emerging into a bona fide NBA talent. Taken with the final pick in the first round of the 2011 NBA draft, Butler saw almost no time on the court as a rookie which hampered his development along with the lockout and no training camp to speak of.
But after a summer of working hard on his game – including an impressive showing in Las Vegas at the NBA's summer league – the Marquette alum came into training camp prepared to make an impact. And make in impact he has.
Statistically across the board, the Tomball, Texas, native's numbers are all up. But you don't actually have a full understanding of how good he is until you watch him play.
Butler has done well as one of the first players off Tom Thibodeau's bench who filled in admirably for Luol Deng this season as a starter when the two-time All-Star spent some time on the injured list.
On Sunday night against the Minnesota Timberwolves, Butler was a last-minute insertion into the starting lineup at shooting guard for Marco Belinelli and he put up 20 points and grabbed nine rebounds in the Bulls win.
This late in the season, while other players are slowing down, it seems Jimmy Butler is just getting started.
"I guess you can say it's because I've got young legs," Butler jokingly told Outside Shot after a recent home game. "You can say whatever you want to say, but even if I happen to play well, it's all about me just doing my part to try and help the team to win these games."
Two things have been consistent with Butler all season: his energy on defense and his rebounding ability. While his outside is steadily improving, the reserve has shown all the tools that will someday make him a legit NBA player and maybe, just maybe, that second superstar the Bulls are so desperate for.
Not to project too much on a guy just in his second NBA season, but Butler is hungry and you can see that hunger and passion to improve each and every game he plays.
"I feel like I'm getting better each and every game," offered Butler. "I'm learning just like I have been all season long. It's a process and a steep, learning curve, but I've just got to keep working hard and keep grinding."
Follow Outside Shot on Twitter (@Outside_Shot) for more Bulls news and information.