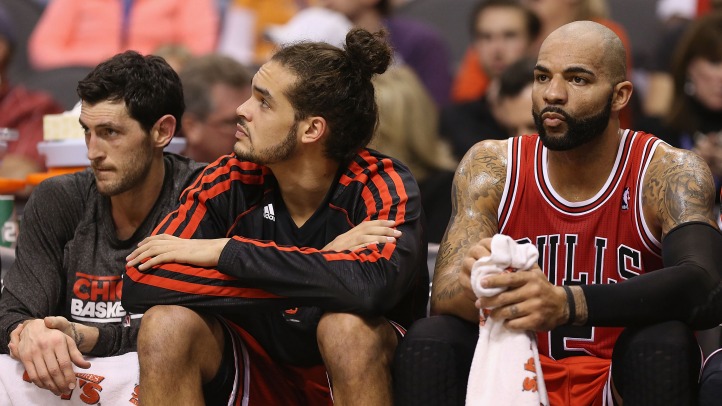 It's been a long weekend if you're a fan of the Chicago Bulls. The treacherous West Coast swing known as the annual "Circus Trip" is always a tough one for the team, and this one is proving to be no different.
Things got off on the right foot when the Bulls defeated the Phoenix Suns. It wasn't exactly a confidence-inspiring win as they blew an 18-point lead in the fourth quarter and needed overtime to get the win. That was on Wednesday.
On Saturday it was off to "Lob City" to face the Los Angeles Clippers who dismantled the Bulls in a 21-point blowout victory, and on Sunday, the team traveled north to face off against the Portland Trailblazers. And that's where we'll begin on this Monday before Thanksgiving as the Bulls wake up to a 5-5 record and have now lost two consecutive games.
The Good
If Joakim Noah can keep up his current level of play, he could be the starting center on the East squad during the All-Star Game in February. He turned in another outstanding performance with 16 points, 15 rebounds and eight assists. His energy on both sides of the floor was there and when he plays like that, he's really tough to stop. Luol Deng (14 points, seven rebounds) and Rip Hamilton (15 points) played well also. While off the bench, Nate Robinson (18 points), Taj Gibson (11 points) and Jimmy Butler (eight points, three rebounds) had solid games as well. As a team, the Bulls dominated in the paint, outscoring the Trailblazers 54-34.
The Bad
The Bulls had 19 turnovers in the game and allowed all five of the Bazers starters to score in double-figures. They had no answer for LaMarcus Aldridge (18 points, 13 rebounds) and rookie Damian Lillard (16 points). Nicholas Batum (21 points) also torched the Bulls as he knocked down five 3-pointers in the game.
The Ugly
We know that Kirk Hinrich isn't 100 percent healthy, but in three games on this road trip, he's scored a combined 10 points, finishing with just six points against Portland. He's dished the ball well, registering 23 assists in those games, but the Bulls are going to need to get way more out of him offensively if they're going to be able to win games and compete. Carlos Boozer had two strong performances against the Suns and the Clippers, but reverted back to "Bad Booz" against the Trailblazers as he put up just four points and three rebounds in 22 minutes of playing time. Finally, the loss moves the Bulls to 0-4 against playoff caliber teams this season.