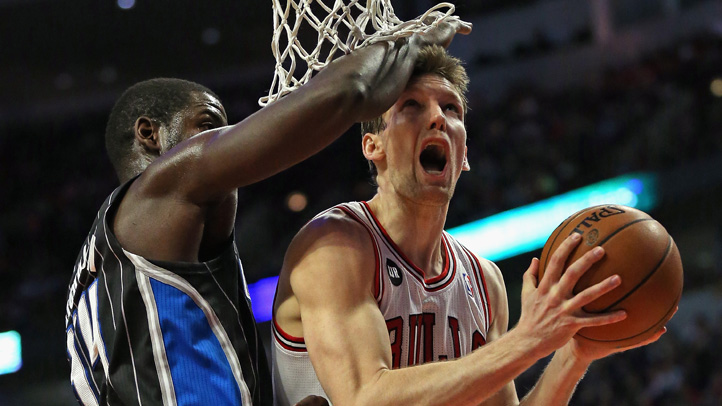 Joakim Noah had 18 points and 10 rebounds and eight assists, Mike Dunleavy scored 22 points and the Chicago Bulls pulled away late for a 108-95 victory over the Orlando Magic Monday night.
With one game left in the regular season, the Bulls are fourth in the Eastern Conference playoff race and looking at a first-round matchup with Brooklyn. To catch Toronto and finish third, the Bulls would need to win the season finale at Charlotte on Wednesday and have the Raptors lose at New York
Kyle O'Quinn led Orlando with 20 points on 9-for-11 shooting, and Andrew Nicholson added 19. Rookie Victor Oladipo was limited to 10 points after scoring a career-high 35 points against the Bulls earlier in the season.
Jimmer Fredette had 17 points for Chicago.
With guard D.J. Augustin missing the game with an undisclosed personal issue — he wasn't in the United Center — the Bulls' rotation was a bit off in the first half.
Fredette was the first player off the bench and he showed the rust of not playing much since being picked up at the beginning of March.
Still, the Bulls used a run of 10 straight points early in the second quarter to open up a 38-26 lead and took a 57-44 halftime lead. Noah led the way with 11 first-half points, and Carlos Boozer added 10. Rookie Tony Snell had nine points in 6½ minutes in the second quarter.
The Magic stayed close, pulling within 67-64 with just under three minutes left in the third.
Dunleavy, though, hit a 3-pointer to stop Orlando's momentum. Soon after, Fredette capped the third-quarter scoring with a pair of free throws to make it 81-70 heading into the fourth.
The Bulls quickly thwarted any hopes of a Magic comeback by opening the final quarter with a 13-7 to make it 94-77 with about seven minutes to go.