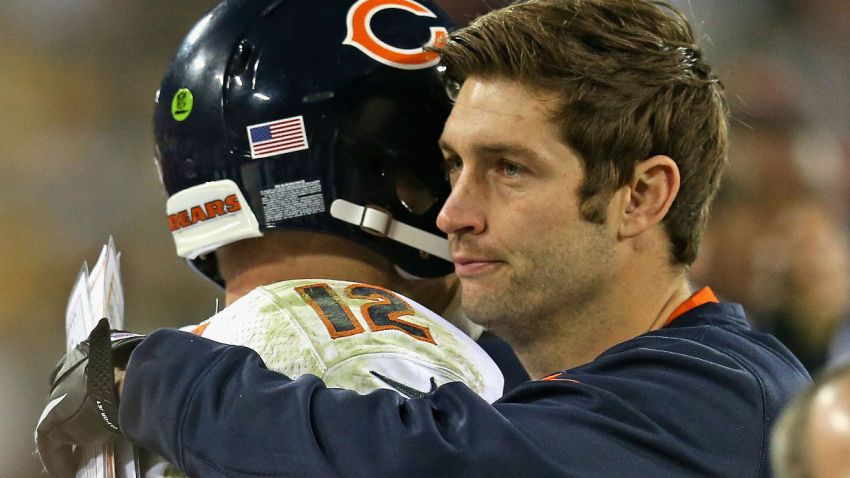 On what is likely to be a rainy day at Soldier Field, the Chicago Bears will look to win their second straight game as they take on former head coach Lovie Smith and the Tampa Bay Buccaneers.
Before the two teams take the field, there are three matchups that Bears fans should keep an eye on as the team tries to get only its second set of back-to-back wins this season.
Jay Cutler vs. Josh McCown
It's the battle that a lot of Bears fans have been waiting for ever since he signed with the Buccaneers in the off-season. Josh McCown will return to Soldier Field on Sunday and look to best the man that he was forced to replace on several occasions due to injury last year.
While last season was a revelation for McCown, with 13 touchdowns and just one interception, this season has been more of a struggle. Dealing with injury concerns from the word go, the quarterback has finally begun to turn things around, throwing four touchdowns in his past two outings since re-taking the starter's role from Mike Glennon.
As for Cutler, he too is coming off a solid performance, throwing for 330 yards and two touchdowns in a victory over the Minnesota Vikings last week. He has talked all week about how he looks to McCown as a mentor, but surely he would like nothing more than to stick it to his critics and those who think that the Bears made the wrong decision this off-season (however misguided that notion is).
Kyle Long vs. Gerald McCoy
For the Buccaneers, a lot of what they do on defense is predicated around the ferocious power and speed that McCoy brings to the table on a weekly basis. Armed with a huge contract extension he signed last month, McCoy has been dominant ever since, racking up four and a half sacks and a stuff even as his team has struggled a bit to lend him support.
On Sunday McCoy will look to make life difficult not only for Cutler, but also for the Bears' running game. The Bucs aren't a stout defense by any stretch, currently ranking as the third-worst passing defense in the league and just 22nd overall in rushing defense, but having a weapon like McCoy in the middle means that numbers don't necessarily tell the full story.
It's going to be up to Long on Sunday to make sure that McCoy doesn't have an easy time of things. With his strength and ability to gain leverage off the snap, Long has already been selected to one Pro Bowl in his young career, and it's not hard to imagine that he'll get a few more invitations to the event before all is said and done.
Kyle Fuller vs. Mike Evans
This matchup is one worth getting excited about. One of the league's leading contenders for defensive rookie of the year will be going up against a player that is on an epic tear at the moment and could wind up winning the award on the offensive side of the ball.
Evans, the Texas A&M product who blends size with surprising speed, started out the season slowly but has turned up his game considerably in the last three weeks. In those games, he's hauled in 21 passes for 458 yards and five touchdowns, and he's almost single-handedly kept the Buccaneers in games during those contests.
Trying to stop him is going to be a tall (all puns intended) order, but Fuller is going to give it a good shot on Sunday. Drafted because of his ability to get physical at the line of scrimmage, Fuller will need to pull out all the stops as he looks to keep Evans contained, but that will certainly be easier said than done as the cornerback has to deal with a player possessing a six-inch and 40-pound size advantage over him.