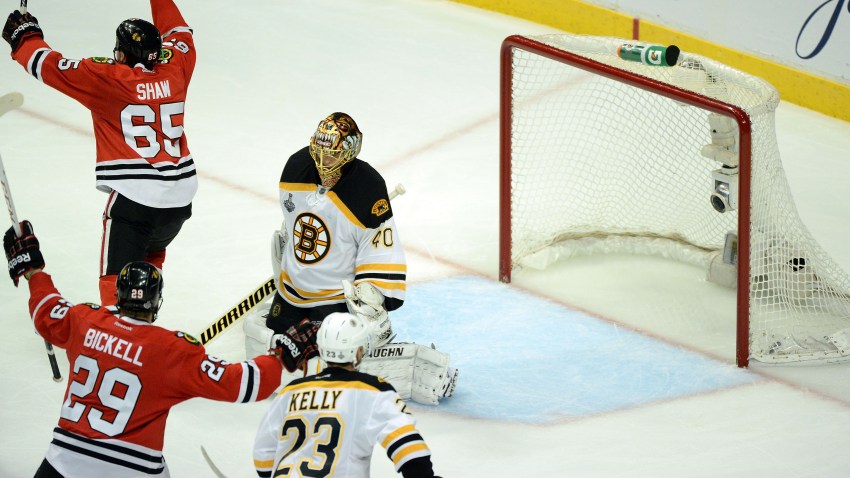 It feels like an eternity since the Chicago Blackhawks took to the ice, but that respite will finally end on Saturday night as they take on the Boston Bruins in Game 2 of the Stanley Cup Final.
In that first game, the scoresheet would indicate that the game was very tightly played, and any game that goes three overtimes like Game 1 did would lead people to that conclusion. Advanced metrics show that the Blackhawks had more opportunities to score in the game, but the narrative of the two teams being evenly matched is the more accurate assumption.
With that in mind, the knowledge that the Bruins are going to come out with a similar strategy to the one the Los Angeles Kings employed in Game 3 of the Western Conference Finals has to be on the minds of the Hawks and their head coach Joel Quenneville. In that game, the Kings came out with a head full of steam, peppering Corey Crawford with shots and aggressively attacking the Blackhawks both in the neutral zone and in the defensive zone.
As a result, it took the Hawks 40 minutes before they could even manage to put together any type of sustained pressure, and by that point in the game it was too late to overcome the deluge.
Avoiding a similar situation on home ice is a must for the Hawks in this game, but they won't be able to do that if they revert back to a bad habit that they developed in Game 1: not dictating matchups properly. Especially in the first and second periods of that game, Quenneville was consistently sending out Niklas Hjalmarsson to go against the Bruins' top line, and the results were rotten.
Hjalmarsson went for an ill-advised hit on one of Milan Lucic's two goals rather than maintaining defensive positioning, and then made his night even worse when he attempted to pinch in at the blue line on the second goal, missing the puck completely and leaving Crawford out to dry.
Granted, it would seem impossible to blame Quenneville for not figuring that Hjalmarsson would make two bad decisions in a row, but what is more worrisome is that Q repeatedly sent out that pairing despite the myriad of other mistakes that they were making. He eventually changed things up on the back end as the game progressed, and Hjalmarsson's game did improve, but as the coach with the privilege of last line change on home ice, Quenneville has to do a better job of making sure that he is getting the matchups he wants.
Another example, provided by NHL.com's Mike Morreale, cites the apparent strategy by Quenneville to have Duncan Keith and Brent Seabrook focusing mainly on the Bruins' second line, with Brad Marchand, Jaromir Jagr, and Patrice Bergeron on the ice. To Quenneville's credit, Marchand pointed out that Keith was out "against everybody", but the fact remains that Quenneville putting out his top pairing against a second line was an odd strategic move.
Finally, the Hawks have obviously got to do a better job on the power play. In Game 1, they only managed three shots on three power play attempts, including generating a whopping ZERO shots on goal during a 1:17 long 5-on-3 advantage.
To counter this, Quenneville made a couple of adjustments in practice. He split Patrick Kane and Jonathan Toews into different units, and also reunited Keith and Seabrook as the point men on one unit, while having Nick Leddy and Patrick Sharp man the blue line on the second grouping.
These changes, along with an emphasis on actually shooting the puck, are all well and good, but the question has to be asked: why isn't Bryan Bickell on the power play unit at all? We asked that after Game 1, and apparently Quenneville is convinced that players like Andrew Shaw and Dave Bolland should be out there over his second leading goal scorer in the playoffs.
Whether that strategy will work remains to be seen, but if the Hawks want to win the series against a Bruins team that is fully capable of scoring quickly, then they are going to need to capitalize on their chances.