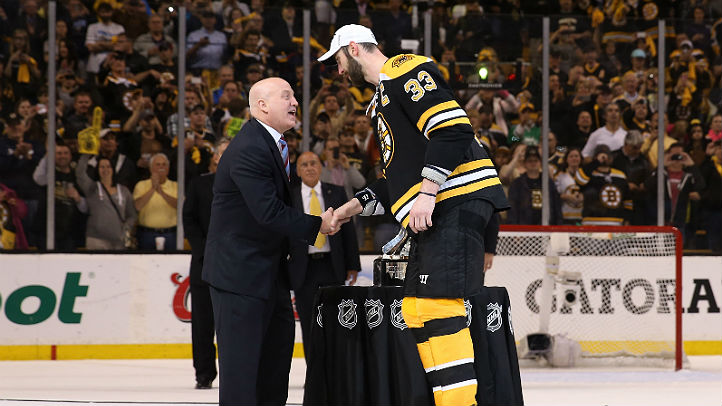 With the Stanley Cup Final between the Chicago Blackhawks and Boston Bruins slated to begin Wednesday night, and with the two teams not playing each other during the regular season, it becomes important to get a proper perspective on the opponent for the Hawks.
With that in mind, Madhouse Enforcer has tapped two talented Bruins writers to help fans better know the team they will grow to hate over the next few weeks.
First in the box is Pez from the Bruins blog Days of Y'Orr (who you can follow on Twitter at @PezDOY):
Madhouse Enforcer: Tuukka Rask has been doing a great impression of Tim Thomas in these playoffs. Does his success come as a surprise to you or did you always feel confident he could play like this?
Pez: I was always confident in Tuukka Rask. At the beginning of the season, I predicted that he would win the Vezina Trophy and while I wasn't right in terms of the actual prediction, Rask has done everything to be considered a Vezina Candidate. Not getting a nomination was a foolish move on the part of the NHL's General Managers.
Sorry for that, but I've always felt Rask was a solid goaltender. While he's not a fish out of water type of goalie like Thomas, his positioning is sensational. A lot of people look back at the 2010 series vs. Philadelphia and use that as a knock against Rask, but they don't take into account that both David Krejci and Dennis Seidenberg were injured.
Madhouse Enforcer: The Bruins are known as a feisty team, with plenty of guys willing to mix it up. How important has that tenacity been to the team's success?
Pez: HUGE. Krejci said during the Penguins series that Pittsburgh had the two best players on the planet, but the Bruins play as a team. Guy couldn't have been more correct. The Bruins are loaded with depth, which makes some of the parts interchangeable. If Horton or Lucic have to drop the gloves to prove a point, Claude (Julien) can move a forward up for a few shifts and they rarely miss a beat.
Madhouse Enforcer: Is there a player on the team's roster that Hawks fans may not be familiar with, but has been important to the B's playoff run?
Pez: All of them?
Seriously though, Torey Krug has been huge throughout the playoffs for Boston. I know a lot of people are beginning to notice him because of his series vs. the Rangers, but Krug has done more than just score goals. His breakouts alone, which don't seem like a big thing, have helped Boston tremendously given that they haven't had a defenseman who could move his feet like Krug can in quite a while.
Also, Krug hasn't been on the ice for a goal against since he started playing for Boston in these playoffs.
Madhouse Enforcer: What part of the Blackhawks' game concerns you most as a Bruins fan?
Pez: Their attitude. Seriously.
I believe a big reason why Boston dominated Pittsburgh was attitude. Boston believed they had to earn their way to the Stanley Cup Final while Pittsburgh believed if they showed up, they would win. You could hear it in the voices of the Penguins players. They never gave the Bruins credit during the series and said things like "we deserved to win…" etc.
Chicago is totally different. They have a mindset much like Boston, which worries me because they won't lay down when things get rough.
Madhouse Enforcer: What is the biggest key for Boston if they want to win the series?
Pez: Be disciplined. They were lucky that Pittsburgh turned into mush on the power play because Boston gave them tons of chances. I believe Pittsburgh ended up 0-for-14 on the power play, but came into the series #1 overall. Chicago has a power play that is just as good as Pittsburgh's, but with better defense playing points.
If Boston wants to win the Stanley Cup, they can't afford to give Chicago all the chances they gave Pittsburgh.