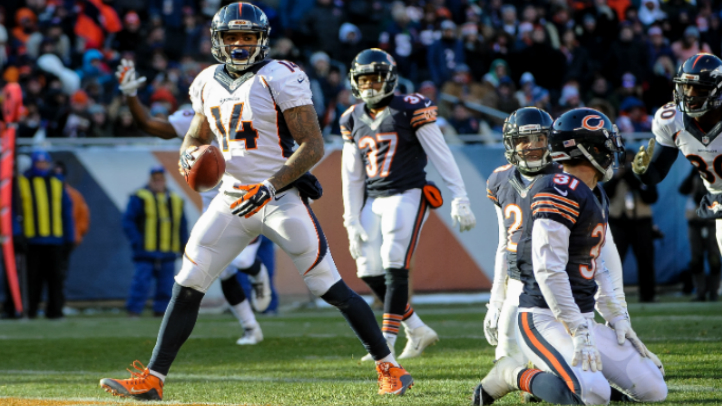 In this edition of Bears Rewatch, we take a look at some of the most important plays that helped shape the Chicago Bears' 17-15 loss to the Denver Broncos on Sunday afternoon.
Play #1: Demaryius Thomas' 48-yard Touchdown
To start with, we look no further than one of the first plays of the game, as the Broncos scored a 48-yard touchdown thanks to wide receiver Demaryius Thomas. Even at full speed, it's pretty clear that there is a defensive breakdown. After all, Thomas is ridiculously wide open, with no Bears player within 10 yards of him, and even though Chris Prosinski and Tracy Porter both try to tackle him, they are unsuccessful as he cruises to the end zone.
To be blunt, there was a lot wrong with the play. Before the ball was snapped, Shea McClellin is aggressively yelling and pointing at Thomas, indicating that the Bears are going to change coverage. That seems to be borne out as the play starts, with Kyle Fuller and Adrian Amos going out in man coverage on two of the receivers that were lined up with Thomas in a trips formation.
Thomas breaks free over the middle of the field, and that likely was caused by Porter drifting back as though he was still playing a zone defensive scheme.
Commentator Dan Fouts blames McClellin for not dropping back in coverage, and although that's certainly possible, it's far more likely that Porter missed a switch in defensive assignment and alignment, allowing Thomas to go free.
Play #2: Jay Cutler's Third Quarter Interception
This play was one that caused a lot of consternation on Twitter and in the stands at Soldier Field, but there were a couple of elements that contributed to the poor throw by Cutler. To start with, Marquess Wilson rounded his route off at the top, failing to create separation from Danny Trevathan.
To add to that, Trevathan made an incredibly athletic play as he turned his hips and grabbed the ball in stride to force the interception. Cutler said after the game that he didn't anticipate Trevathan being able to do that, which is a reasonable expectation for a linebacker.
To finish off the analysis, Cutler's throw wasn't all that great to begin with. If Wilson had cut more sharply on the play, Cutler still would have thrown somewhat behind him, making a catch on the play highly unlikely. Complicating things further was the fact that even if Trevathan hadn't been able to make the play, there was still a safety behind the play as well, making the throwing window even tinier than it was to begin with.
To sum up, there were extenuating circumstances that elevated this play above just being a "boneheaded Cutler decision," but it still wasn't a good throw.
Play #3: Cutler's Failed Fourth Down Conversion Pass
The play that is probably generating the most controversy from this game is the decision by John Fox and Adam Gase to go for the end zone on a fourth down play deep in Broncos territory. With ten minutes left in the game, going for a field goal would have left the Bears down by five points, but it at least would have made it so that the team didn't have to go for a two-point conversion at the end of regulation.
Whether one agrees with the decision or not, there is still plenty to discuss about what went on. For starters, Cutler had plenty of time in the pocket to make a choice on where to go with the football. Wilson flashed open for a moment along the goal line, but by the time Cutler recognized it, the throwing window narrowed considerably as a defender caught up to Wilson.
The key portion of the play occurred when Cutler rolled back to the right side of the field. Patrick Omameh was still very much engaged in his block on the right side of the line, and Jeremy Langford's positioning acted as a block for the defender covering him. That opened up a momentary seam that Cutler conceivably could have run through to get to the goal line, but instead he opted for a lofted pass that was knocked down to prevent the touchdown.
If this play demonstrates anything, it's that the Bears miss having Alshon Jeffery in key end zone situations. His vertical game is strong, and the Broncos likely would have left somebody open enough for Cutler to throw to if Jeffery was there to draw double coverage. A pass to Martellus Bennett would have been the likely call, but Wilson or Zach Miller also could have benefitted.
Play #4: The Failed Two Point Conversion
With the Bears trailing 17-15 with less than 30 seconds to go in the game, they were forced to go for two after Langford's touchdown run. There has been a lot of criticism of the play call that Gase dialed up, but if fans are going to point fingers, they'll have to look in a couple of other directions as well.
When he approached the line, Cutler clearly audibled out of the set play, dialing up a run play instead. Most of the linemen heard this call, and Bennett even came back from the outside to line up closer to the offensive line. Once the ball was snapped however, Bennett ended up running a pass pattern instead, leaving Broncos linebacker Von Miller unblocked and allowing him to tackle
Langford at the line of scrimmage to end the Bears' chances of winning the game.
Center Hroniss Grasu also made the wrong choice at the line of scrimmage, allowing considerable pressure up the middle as he stepped back in a pass-blocking stance. It was a rookie mistake by a player who has had to sit out recently, but it still contributed to the overall breakdown of the play.