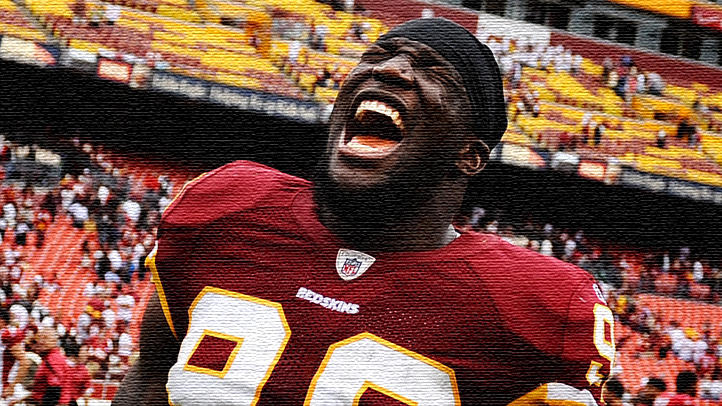 Brandon Meriweather isn't the only one catching heat from the Washington Redskins game against the Chicago Bears last Sunday.
Redskins linebacker Brian Orakpo was penalized for roughing Bears quarterback Josh McCown in the third quarter and was fined $15,750 from the NFL, according to Pro Football Talk.
Though McCown's pass to Bears WR Alshon Jeffery fell incomplete, the penalty yardage helped move them into position for a field goal, which was later missed by Robbie Gould.
According to a report from CSN Washington, Orakpo reportedly intends to appeal the fine.
Orakpo's fines come days after reports that former Chicago Bear and current Washington Redskins safety Brandon Meriweather will be suspended by the NFL after a couple of hits on defenseless receivers during the Redskins' 45-41 triumph over the Bears.
During the third quarter, Jeffery caught a pass down the field and ended up gaining 28 yards on the play. As he collected the ball, he was blindsided with a hit to the facemask courtesy of Meriweather, who lowered his head and drove the crown of his helmet into Jeffery.
On an incomplete pass to the end zone intended for Brandon Marshall, Meriweather once again went high on a Bears receiver, this time letting his arms do the work as he clocked Marshall up high. Meriweather received another penalty on the play, and on the very next snap, Josh McCown found Martellus Bennett in the end zone for a seven yard touchdown catch.