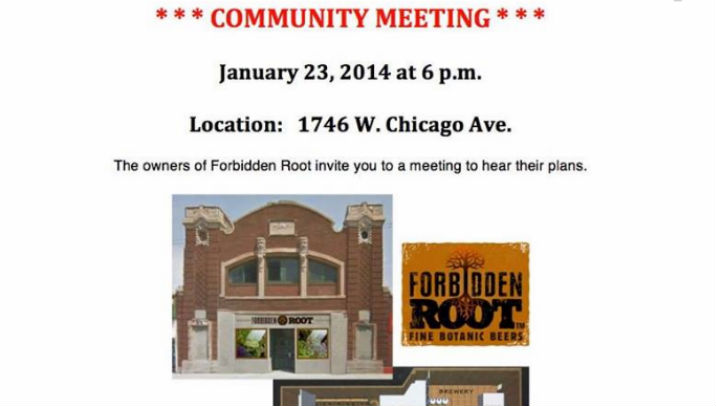 Owners of a craft botanical beer company are hoping to set up shop in Chicago's West Town neighborhood. There's just one problem-- the area's restrictive zoning and liquor moratorium won't let them.
The company has developed a concept for a high end craft beer tap room and brewery called Forbidden Root at 1746 W. Chicago Avenue, the long vacant former Hub Theater. But they need a zoning change and the East Village liquor moratorium lifted by Ald. Joe Moreno (1st) in order to apply for the type of business and liquor licenses they need to operate.
To drum up support for their new business, the Forbidden Root partners are holding a community meeting to present their plans and describe their zoning and licensing needs to the community. The meeting will be held at 6 p.m. Thursday at the very spot they hope to transform.
The meeting will include a survey to see if the community and area residents support the new business.
If approved, Forbidden Root would be the first botanic brewery in the country.
As a "benefit" corporation, it also plans to donate it profits from non-consumable merchandise to not-for-profit causes, currently the Green City Market.
"It is the opinion of the West Town Chamber of Commerce that this is exactly the type of business we are trying to attract to the area, but without community support they could be denied based on the hurdles they face in obtaining a liquor license and a zoning change," the West Town Camber of Commerce posted on their Facebook page.
In a message on the East Village Association's Facebook page, EVA President Neal McKnight addressed his concerns for the proposal, specifically the zoning changes.
McKnight says permitting the company to use commercial zoning could cause "problems for the business and impacted neighbors."
"Requests for zoning changes are a good reason to be concerned about a proposal because it suggests that the proposed use is inconsistent with the neighborhood as decided by the city," he wrote. "EVA has a history of working with developers and aldermen to encourage development in the neighborhood that will be compatible with the existing uses and to allow the new business to succeed."
Some area businesses are supporting Forbidden Root.
"This would be a great addition to our developing neighborhood for several reasons," Dovetail, a vintage boutique, wrote in a recent email. "Not to mention that having our very own brewery would be awesome all around."