I suppose it's poor form to gauge the opinion of Hawks fans based on what I hear coming out of the arena or via Twitter right after a game. After all, the patrons in the arena just shelled out a fair bit of cash and are probably a couple pops in, and it wouldn't be too far a leap to see the emotions running a tad out of control.
So maybe everyone isn't panicking, or upset or getting very antsy. But it sure feels that way.
Well, don't.

The Hawks actually put forth a fine effort Tuesday night without two of their most important players and lost a close game against the hottest team and goalie in the league. Yes, there were two mistakes made that cost the Hawks the game. However, one came from its third pairing, which has been pretty solid lately, and wailing about your third pairing having the occasional conniption with the puck is akin to complaining that your middle reliever gives up a homer from time to time. If they didn't, they wouldn't be in that position on the team.

The second Preds goal was a result of a Nick Leddy turnover under pressure in his own zone. This is the same problem it's been all year. It's no worse or better than it was two months ago. If you want to get angry about the rate of improvement, I guess that's fair. But it would still be harsh to get that worked up about a 20-year-old d-man still not yet at a full season of NHL experience.
From there, the Hawks brought the requisite energy just didn't have the inspiration. They directed 63 shots at Pekka Rinne, but only 25 got through. That'll happen when the Preds are this much on their game. That's what they do.
The penalty kill looked better. The power play created chances and scored. Corey Crawford recovered from a rough beginning to keep his team in it. It's not all bad.
Yes, 4th in the division and 6th in the Conference sounds bad. But look closer, and it's still the 3rd most points in the West. It's three away from the top. And over the past month, the three other teams in this Central Division Royal Rumble of Madness played at a .800 clip, while the Hawks have muddled around .500. Neither of those rates are likely to continue for a majority of the rest of the season.
Breathe.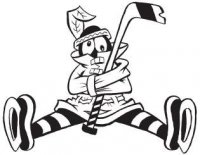 Sam Fels is the proprietor of The Committed Indian, an unofficial program for the Blackhawks. You may have seen him hocking the magazine outside the United Center at Gate 3. The program is also available for purchase online. Fels is a lifelong 'Hawks fan and he also writes for Second City Hockey .