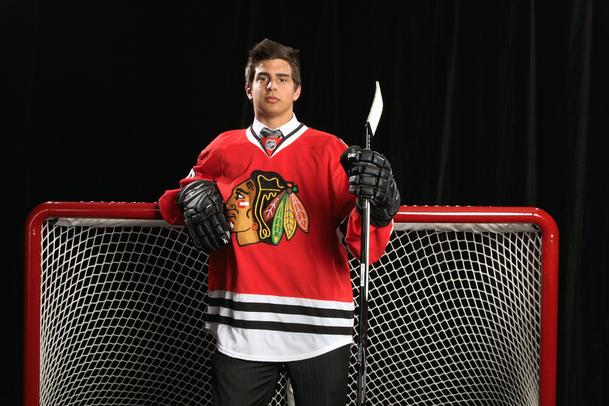 There are a few big storylines surrounding the Chicago Blackhawks as they slowly start to get ready for the 2013-14 season.
There is the most obvious one of how they will fare as the defending Stanley Cup champions. The past two champs have gone through significant hangovers, with the Boston Bruins and Los Angeles Kings both struggling out of the gate in their title defenses.
Another possible narrative will be whether or not Corey Crawford can continue his excellent play in net for the Hawks, despite no longer having Ray Emery behind him as a safety net.
On equal footing with those stories, however, is the one about which player will suit up as the Hawks' second line center when the season begins. Last year's prime contender, Dave Bolland, ended up struggling in the role and was shipped off to Toronto in exchange for draft picks at the end of June, and before that, it has been a revolving door of players who have tried and failed to keep a hold of the position. Patrick Sharp and Patrick Kane have both been given chances, as have Marcus Kruger and Michal Handzus at various times.
This season, one of the prime contenders for the spot will be prospect Brandon Pirri. He has made a couple of appearances with the Hawks over the years, including on the night the Hawks raised their last championship banner in 2010, but he has never been able to stick on the NHL roster.
Now, after a season in which he led the AHL in scoring with the Rockford IceHogs, Pirri seems poised and ready to take on the challenge of the second line center spot. Here is what he told Dan Rosen of NHL.com:
"It's something I think I've earned the opportunity to do and I have to take advantage of it. I want to make that jump and I think I'm ready…

"Working out with Paul, who is a terrific trainer, and just being around, being in the city, I think shows that I'm willing to give up going back home and spending time with my family because this is really what I want. In the end, it's my job to force their hand into saying, 'This kid deserves to be here and he deserves to play with these two great players [Sharp and Hossa]."
With head coach Joel Quenneville saying that Brandon Saad will also get a shot at the position, it is far from a guarantee that Pirri will get in. He is definitely saying all of the right things, and it isn't a stretch to see him being the facilitator on that second line that the Hawks have been searching for.