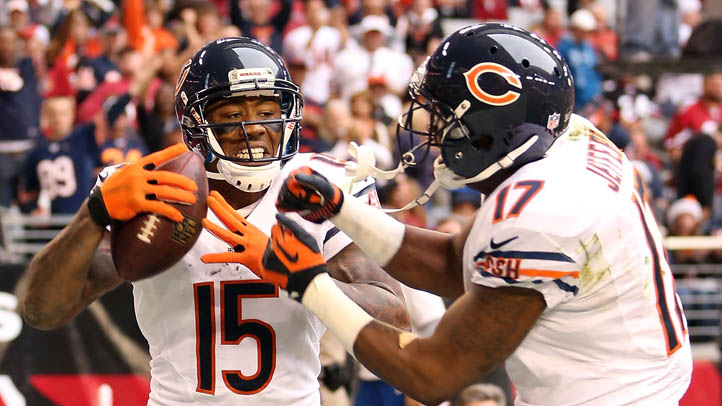 Late in the 2012 season, rookie Alshon Jeffery made some very rookie mistakes. He let opponents get under his skin and drew more than his fair share of pass interference penalties. As a wide receiver who has experienced all the ups and downs of the league, Brandon Marshall wants to share some of his wisdom with Jeffery.
Marshall has plans to train with Jeffery in the off-season, but they won't just be working out together. Marshall also has plans to share what he does to make sure he's ready when the new season rolls around.
"For me, I always started training the week after the Super Bowl, and he's going into his second year so it shouldn't be a problem for him," Marshall said on the Waddle and Silvy Show.

"As I'm getting a little older, I have to change the way I attack it," he said. "Starting off, our routines will be a little different, but just getting him with the right people, nutritionists, trainer, chiropractors and all that stuff. [It's about] showing him the other side of the business, showing him it's not just about coming to work and going on the field."

Marshall sees Jeffery as full of potential. Jeffery showed flashes of his possible future throughout the season. He had long catches -- including one for 55 yards -- and used his big body to battled defenders.

"I'm excited because this kid has the potential to be an All-Pro one year," Marshall said. "If he just changes some little things, the way he approaches the game as far as physically and mentally, he's going to be a beast. Because he has that dog in him, he has that in him, that you want in a receiver ... a guy who is going to make plays for you.
Jeffery's first year was injury-riddled, but he showed promise. Marshall's teaching can only help.
Copyright FREEL - NBC Local Media