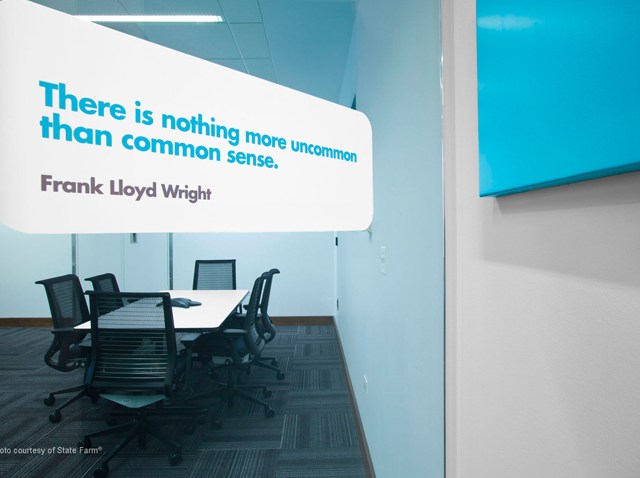 When is the last time you visited a local community center? Possibly never. But one company is out to change that.
Next Door Chi is a State Farm-sponsored community space that opened in Lincoln Park in August. But it's no insurance office. Behind the full-length glass windows (which stay wide open in warmer temps) are hip sofas, a coffee shop and library, good music and conference rooms for anybody in the community to use.
The goal of Next Door Chi is to create a casual environment where anyone can ask questions about finances and insurance. And the best part? Everything is free, except the coffee and snacks. That's right: No financial products or services are being sold here.
"We worked with internal State Farm teams, as well as external designers and developers, but really the idea behind Next Door Chi came from the community," said Staff Director Brett Myers. "They wanted the space to be creative, growth-oriented, and approachable."
So, how does an experimental, local project of an industry leading company create a distinctive brand identity?
Notice the Next Door Logo, which is two letter Ds overlaid on each other, almost like a door on an architectural blueprint. In some ways, this represents the community center's open-door policy, and the opening of doors in people's financial future.
"Next Door" is also a friendly and simple message: "Hey, we're your neighbor!"
But it's not all about the name and logo.
Red and blue are strong in the front and back of the space, while the middle is white walls or wood. This allows the space to be highly customizable, whether it's displaying community art or drawings on the large dry-erase walls placed throughout. In the back, there are two conference rooms, one red and the other blue, referencing the logo. "We didn't want to go over the top," Myers said. And he's right: subtlety is one of the key components of branding.
Environmental branding, like interiors and storefronts, should have the same look and feel as other marketing collateral. For example, Next Door's informational brochure has a word search on it, mirroring the interactive quality of its interior, like the 15-foot-high chalkboard calendar and dry-erase map of Chicago inside. The brochure also uses the same colors and typefaces, just as the website does, too.
All of these branding attributes belong to the same visual family. For business owners, having consistent branding can make a huge difference because it makes your product or service familiar. And if a potential customer already feels acquainted, they are more likely to remember it, talk about it, and invest in it.
Check out Next Door Chi 7 a.m. to 10 p.m. daily at 659 W. Diversey Pkwy. and online.
Elliott Beazley is a graphic designer/web developer from Atlanta, Georgia who goes by the alias "ebeaz." A former NBC intern, he now works full-time at Upshift Creative. If there's time, he also takes on freelance marketing and design projects. Elliott is a graduate of the School of Art Institute of Chicago's visual communication program, where he was also an art director for the school newspaper, F Newsmagazine. In first grade, when asked to write down what he wanted to be when he grew up, he wrote "deziner."