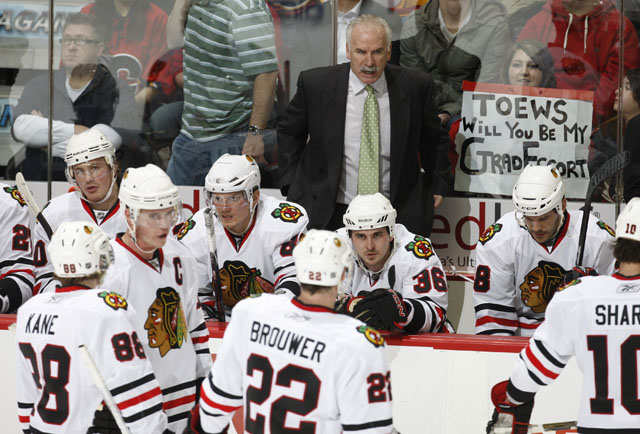 It's at times like this I wish I had any proper writing training, because I've run out of ways to say how exasperated I am (along with pretty much every other Hawks fan) with this team right now.
Insanity is doing the same thing over and over and expecting different results. Yet the Hawks continue to just go through the motions and then say the right things after. I have sat here all season assuring everyone, or maybe just myself, that the Hawks are going to put it together in the same vain that Bart Simpson was positive Krusty was coming to save him from the hell of Kamp Krusty.
And yet here we are making wallets for Jimbo and eating gruel served to us by Kerney, while Krusty is still very much at Wimbledon. And I can't lead a revolt.
In the interest of fairness, the Flames are the hottest team in the league (lame pun certainly not intended). They dump the puck in but keep three players high in the zone (meaning toward the blue line) in case they don't retrieve the puck they are well-stocked to cover. They make you put it deep in their zone and then dare you to outfight their brutish d-men to get it back. One has to show a modicum of fight to do that, and the Hawks didn't have that in the bag last night.
Compound that with some mental mistakes leading to the killer goal that's putting the Hawks out of the playoff race. On Calgary's first goal, Mikael Backlund was able to outrace Viktor Stalberg and Jake Dowell, and Duncan Keith was too slow to recognize the danger and he raced in alone. This came after losing yet another faceoff, which the Hawks must've done 409 times last night. On the second Flames goal, Niklas Hjalmarsson got caught puck-watching, which has happened a lot this year, and lost track of Curtis Glencross unmolested on the left wing. And Brouwer and Boynton had the puck carrier pretty well covered (Ollie Jokinen).
The 3rd period problems persist this far into the season, and yet no one's asked about this team's conditioning. They would answer about mental mistakes, but tired legs lead to tired minds. And now it's between the ears.
Keith can run his mouth all he wants, and I'll talk about that later, but what would be the point of going to the net Duncs when you're just going to lazily blast it off the first forward's shins anyway. The Hawks stars are not bringing them anything right now, showcased by Brent Seabrook's selfish and galactically dumb penalty with a minute left for yapping at the ref (after he dived to get a penalty). Marian Hossa has caught the Suck-Flu, and though Kane scored last night he still isn't a force.
It's late now, but why would I think they'll change after all this time?