After the trade deadline, there is no roster limit for NHL teams. The Blackhawks took advantage of that by calling up Andrew Shaw and Brandon Bollig.
We've seen enough of Shaw to know what he is. He's got boundless energy and fearlessness, just not much of a brain. He proved to be a turnover machine after his initial splash, and needed a GPS in his own zone.

However, if Coach Joel Quenneville can find his logical shorts, Shaw's energy would serve some purpose on the 4th line, where the idea is to just create a buzz. But Q won't do that, and you can look forward to Shaw playing in all situations and on the 3rd line at least while Bryan Bickell and Viktor Stalberg wonder what they've done to deserve such a fate.
Bollig is kind of a replacement for John Scott, except that Bollig can actually skate and may be trusted with a somewhat regular shift. His main asset is his toughness, but that's kind of useless if he can't be out there regularly.

He's improved a lot in his second professional year, but this smacks of another player that Quenneville will keep in the lineup but stapled to the bench in some false belief that he'll deter anything.

Either way, look for Bollig to try and start a fight on his first shift.
Nothing of consequence here, move along.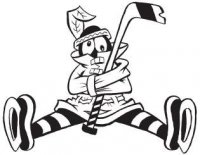 Sam Fels is the proprietor of The Committed Indian, an unofficial program for the Blackhawks. You may have seen him hocking the magazine outside the United Center at Gate 3. The program is also available for purchase online. Fels is a lifelong 'Hawks fan and he also writes for Second City Hockey .