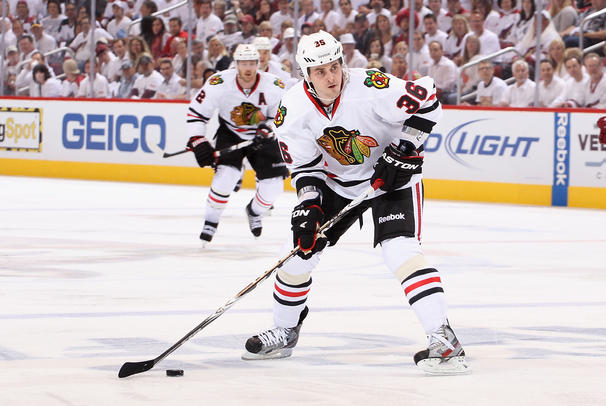 The Chicago Blackhawks will be trying to close out the Minnesota Wild Thursday night at the United Center, but they will be doing so once again without the services of center Dave Bolland and goaltender Ray Emery.
Both players have missed the first four games of this series with lower body ailments, and although both players travelled with the team to Minnesota for Games 3 and 4, neither one has seen game action just yet. Both players also practiced with the team this morning, but the decision was still made that they aren't quite ready.
In post-morning skate interviews, head coach Joel Quenneville said that both players are "close" to returning but also put the kibosh on speculation that he would consider simply holding both players out until the second round so that they could be fully rested.
"If he was healthy, he'd be playing," Quenneville bluntly told reporters about Bolland.
What was also interesting about his post-skate remarks was that Quenneville seemed to indicate that he will keep center Michal Handzus on the second line even when Bolland returns to the lineup. He called Handzus "a nice find," and if that is taken to mean that Handzus will be the second line center long term, that would probably mean a third line role would be in order for Bolland.
If that's the case, that is a great decision by Quenneville. Handzus hasn't exactly been lighting the world on fire in the face-off dot, but he is definitely a better option as an offensive facilitator than Bolland is, and Bolland fits more comfortably into the third line role that he has taken on in the Hawks' previous playoff appearances. Putting him out there with Bryan Bickell and Viktor Stalberg could be a great idea, mixing the speed of Stalberg with the brute physicality of Bickell, and the two-way responsibility of Bolland.