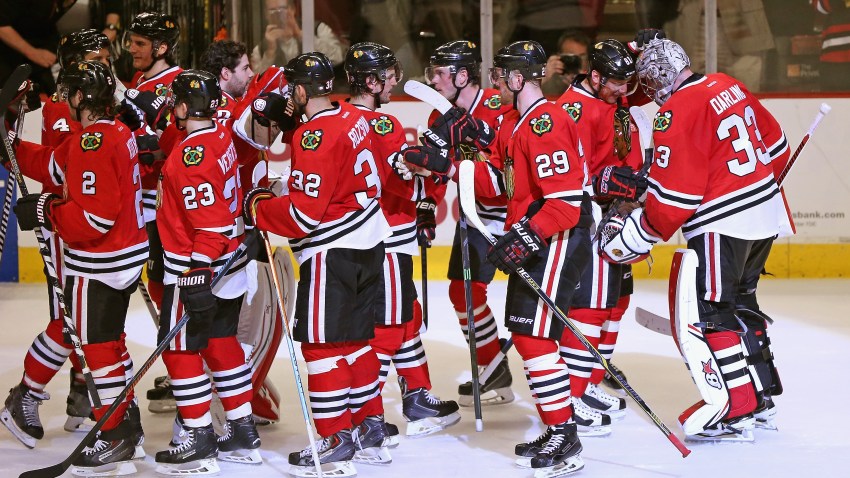 The Chicago Blackhawks went into Monday's game against the Los Angeles Kings with a good opportunity to not only make up some ground in the Central Division race, but they also had an opportunity to make a big statement against the defending Stanley Cup champions in a tough second game of a back-to-back set.
They accomplished both of those goals and more thanks to their performance in the game, a 4-1 victory that saw them play excellent hockey on both ends of the ice. Their offense churned out some excellent opportunities, their defense played much better than it has in previous games, and goaltender Scott Darling turned in a solid effort in the rare moments that he was seriously tested.
For the Blackhawks, the win was a good moment after a couple of bad losses last week, but it represented something far better than that as the team managed to get a perfect storm of results to help their playoff standing. The Calgary Flames took care of the Dallas Stars in a 5-3 victory, pushing themselves to three points ahead of the Kings for third place in the Pacific Division. The Hawks also got some great news when the St. Louis Blues dropped a 4-1 decision to the Vancouver Canucks, leaving Chicago just one point behind the Blues for second place in the Central Division.
As things stand right now, the Blackhawks are four points behind the Nashville Predators for the top spot in the division, with one game in hand on their rivals from Tennessee. They don't have another game left against the Predators during the regular season, but they shouldn't hope for much help. The Predators only have two games left against teams that are in playoff contention, and they also have two games remaining against the Dallas Stars before the end of the season.
For the Blackhawks, the thing that they have to immediately focus on is getting three more points in the standings. Even if the Kings were to win out in that scenario, three more points would be enough to clinch a playoff berth for the Hawks, and with games left on the docket against the Buffalo Sabres and Colorado Avalanche, that would seem to be well within reach.
After actually clinching a spot, the Hawks have a great chance to try to overtake the Blues for second place in the Central, as the two teams have two games remaining against each other this season. The two teams have played each other three times so far this season, with the Hawks taking two of the first three meetings.