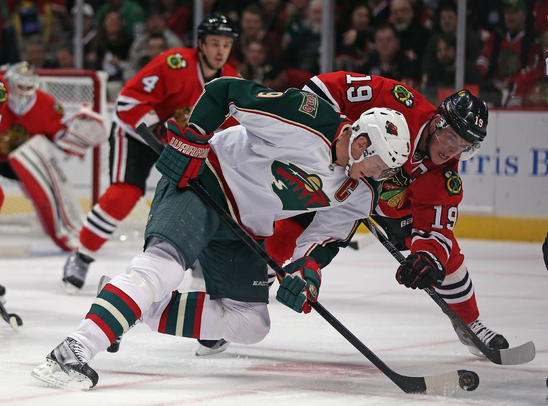 After the Chicago Blackhawks' historic 24 game point streak to begin the season, all the talk turned from whether or not the team would benefit from the NHL lockout to whether or not their season would be viewed as a disappointment if they failed to hoist the Stanley Cup.
Later this week, they will get the opportunity to begin to answer that question. The Hawks will host the Minnesota Wild in the first round of the NHL playoffs, and as fans prepare for the series to begin on either Tuesday or Wednesday, it would help to take a look back at who shined brightest during these two teams' three regular season meetings.
Who Was Hot
On the Blackhawks' side of things, there were several offensive catalysts who stood out. Patrick Sharp may have only had one assist in the season series, but he did take 14 shots in those games and provided some great spark for the team. Marian Hossa, Jonathan Toews, Brandon Saad, and Bryan Bickell all tied for the team lead with three points, with Toews leading the way among that group with nine shots on goal.
On the Wild side, there wasn't a ton of offense, with Ryan Suter's seven shots and one goal standing out. Also, Devin Setoguchi and Matt Cullen each had a goal and assist in the season series.
Who Was Cold
For the Blackhawks, the one guy that really couldn't buy a break was Michael Frolik. In what was a perfect microcosm of his season, he had eight shots on goal in the three games, but didn't have a single goal or assist.
On the team side of things, it was the Hawks' power play that was coldest. They went 0-for-7 in the three games, which didn't help their lowly overall numbers on the season with the man-advantage.
For the Wild, it was high-priced free agent Zach Parise that was quietest in the season series. He didn't have any points, and he only had three shots on goal total while averaging 21:22 of ice time.
Niklas Backstrom spent the most time between the pipes for the Wild against the Hawks, but backup Josh Harding had better hope he doesn't end up facing Chicago. In only 6:45 of ice time, Harding made two saves and allowed two goals against the Hawks in the first game of the season between the two clubs.
In Case You Missed The Games:
Game 1: Wild 3, Blackhawks 2 (SO)
Game 2: Blackhawks 5, Wild 3
Game 3: Blackhawks 1, Wild 0