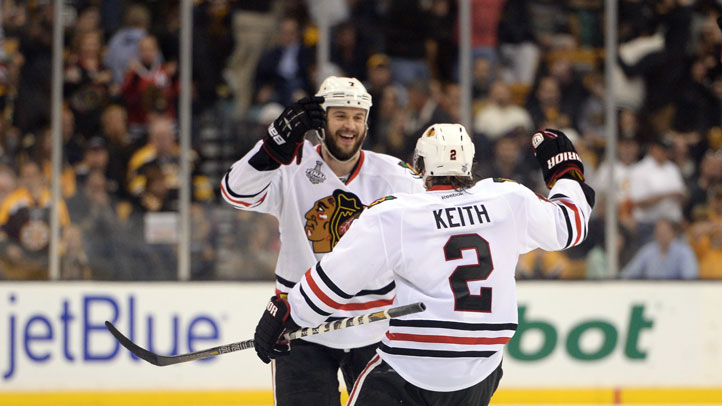 The Chicago Bears may be stealing some of the thunder from the Chicago Blackhawks' preseason matchup against the Detroit Red Wings on Sunday afternoon, but there are still several storylines in the game that could have a big impact on the direction of the team coming out of training camp.
For starters, Duncan Keith and Brent Seabrook will be back in the lineup against the Wings, who will be running out their full compliment of stars today, including Pavel Datsyuk, Henrik Zetterberg, and Jimmy Howard. That should provide an adequate test for the Hawks' best defensive duo, who are looking to continue the excellent play that they displayed upon their reunion during last season's playoffs.
In addition, the Hawks will also have Ben Smith back in their lineup for the game, as he sat out Friday's game against the Washington Capitals in DC. Look for him to be paired up once again with center Marcus Kruger as Joel Quenneville tries to find the right replacement for Michael Frolik
on the team's penalty killing unit.
Also, Michal Rozsival will finally be making his preseason debut for the Hawks after missing the first three games of the slate. He is obviously a lock to make the team, but the amount of playing time he gets in the sixth defenseman slot is largely dependent on whether or not he can match the effectiveness that he showed in the role down the stretch last season.
Other players to keep an eye on in the game are Jimmy Hayes and Jeremy Morin, who along with Drew LeBlanc are trying to grab open roster spots vacated by the departures of players like Dave Bolland and Daniel Carcillo during the offseason. Hayes in particular has looked good throughout the preseason, playing well on both ends of the ice and skating with an enthusiasm that is hard to miss.
Meanwhile, Morin is trying to grab a spot on either the Hawks' third or fourth line, and has been showing some offensive flair of his own. Look for him to get some decent minutes in the game Sunday to see if he can continue that stretch of quality play.
Finally, the return of Mike Kostka is obviously a good sign both for him and for the Hawks. Kostka was drilled on his first shift of the Hawks' first preseason game against these Red Wings, and has sat out the last two tilts with an injury sustained in the collision. The guy who hit him, Teemu
Pulkkinen, is currently sitting out a four game suspension for the hit, which occurred along the boards and incurred a game misconduct for the Wings' youngster.
The game will begin at 4pm Central time, and can be seen on NHL Network, meaning that fans will have plenty of time to grab dinner before the Bears' kick-off at 7:30pm. Look for a recap of the action later this afternoon on the blog.