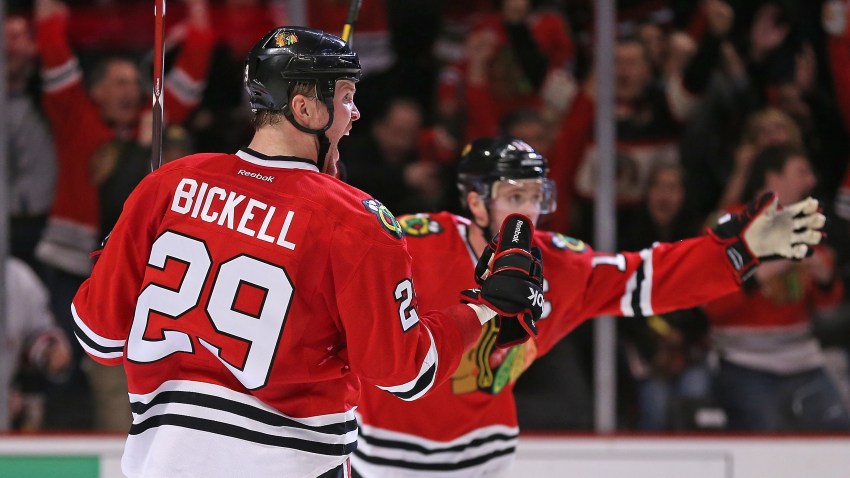 The Chicago Blackhawks find themselves trailing in a series for the first time in the 2015 playoffs after dropping a 4-1 decision to the Anaheim Ducks on Sunday, but they have an opportunity to even things up on Tuesday night as the teams battle in Game 2 of the Western Conference Final.
In order to win the game, the Blackhawks will need some big performances out of a couple of key players, and we highlight three of them that must produce in Game 2 in southern California.
Bryan Bickell
Originally on the second line to start Game 1, Bickell found himself pushed up to the first line as Joel Quenneville looked to increase the speed quotient on the second line for the Hawks. The move didn't ultimately pay off, as Bickell struggled to find his comfort zone against a Ducks team that is able to seamlessly mix physicality and speed.
Bickell has to find the right formula on Tuesday night if the Blackhawks are going to succeed. He has the ability to play with physicality and to still contribute offensively, and that balance will be key as he tries to contend with whatever defensive adjustments the Ducks are going to throw at him.
Kyle Cumiskey
After David Rundblad didn't exactly blow the doors off the place on Sunday night in California, Cumiskey is going to get a chance to make himself a fixture in the Hawks' lineup as he slots in for Game 2. Cumiskey's arrival does continue to make the Blackhawks a left-handed dominant team on the blue line, but it also adds an element of speed and defensive discipline to the proceedings.
That being said, Cumiskey has to get back up to NHL speed on the fly in this game. He hasn't played in an NHL game in some time now, and he is going to be expected to play anywhere from 15 to 18 minutes in Game 2. That's a tall order for any player, but he'll have to really step up his game if the Blackhawks are going to have a good shot at winning this one.
Jonathan Toews
The Blackhawks' captain was an offensive dynamo in the first two rounds of the playoffs, but he looked a bit more pedestrian in Game 1. Having to go up against top forwards and play well offensively is a tall task for any player, but Toews has shown in the past that he has the ability to do so and he'll have to repeat that performance on Tuesday night.
The big area that Toews will have to contribute on is the power play. He is good at moving the puck and can also set up shop in front to create screens when necessary, and the Blackhawks will need him to fulfill both of those roles as they look to improve upon a subpar power play performance in Game 1.
Quest for the Cup: Chicago Blackhawks