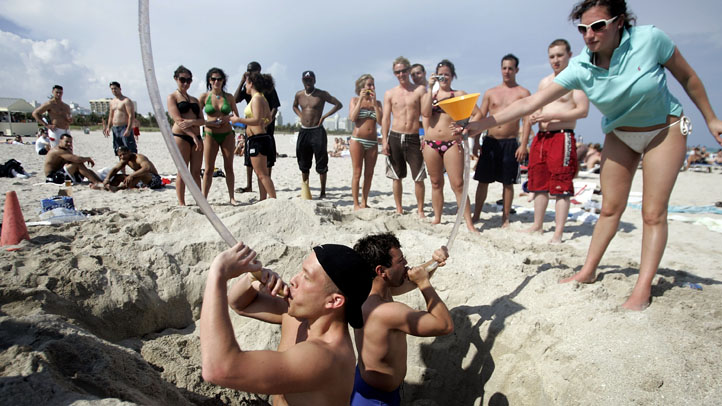 Spring break in Chicago? At Johnny's Ice House?
That's what it looked like Friday as hundreds of Blackhawk fans took in the chill to watch their favorite hockey team practice.
"It's a little weird isn't it?" Goaltender Marty Turco laughed. "It's 31 degrees out, get out of town!"
Most of the Blackhawk players haven't enjoyed a spring break destination vacation in years, they always playing hockey instead.
"Spring break?" Brian Campbell said."Wow, maybe grade 8?"
"The last time I got a spring break was pretty much never!" Patrick Kane said. Though he admitted they got a sneak peek of the beach action last week on the team's road trip to Florida. "There was a lot of drinks flowing, but we had a game the next night so we couldn't take part."
Still there was a pep in their step with a week and half left to make the playoffs, while sitting in 7th place in the West. Duncan Keith warned not to confuse the energy in practice with an eye on the post season.
No, Keith claims Patrick Kane flipping pucks to the crowd and Jonathan Toews showing off was a nod to the "spring breakers" watching.
"We always get excited to see (the fans here), did you see Tazer trying to make those fancy moves for the crowd? We weren't going to have any of that!"