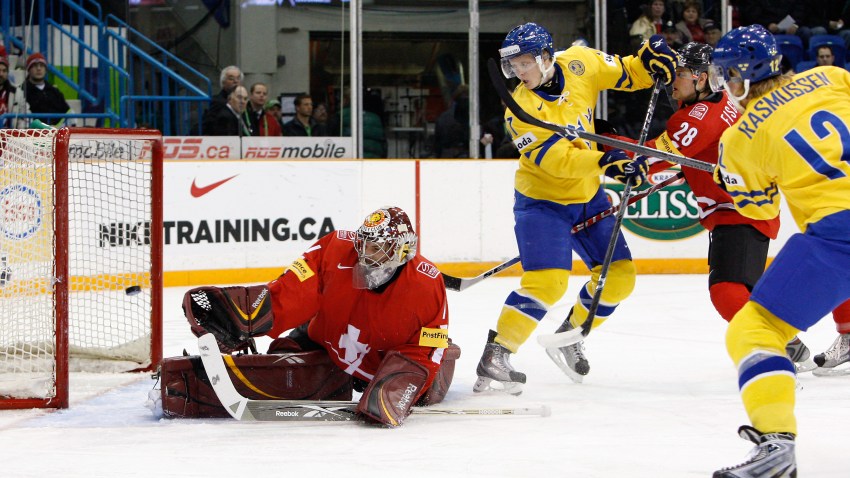 The Chicago Blackhawks already have some truly talented Swedish players on their roster, and they added another guy to the mix on Tuesday when it was reported that they had signed center Dennis Ramussen to a one-year contract:
#blackhawks signed Swedish C Dennis Rasmussen. One year contract at $793,000 (2 way) #tvasports — Renaud Lavoie (@renlavoietva) June 10, 2014
The 23-year-old Rasmussen likely will be a long-shot candidate to make the Blackhawks' roster out of training camp later this year, but he is a guy with a lot of ability on both ends of the ice. Here is how the website Elite Prospects described him:
"A center with good size and wheels, as well as two-way acumen. Has fine stick skills and handles the puck well. Drives the net and battles along the boards. Useful on the penalty kill and can play wing in a pinch."
There probably isn't a more accurate description of what head coach Joel Quenneville looks for in a forward than you'll find in a scouting report. Getting to the net and battling for loose pucks are both traits that the coach emphasizes, and if Rasmussen can really play on the penalty kill, that could potentially be another selling point when he's trying to make the roster.
As his career progressed over in Sweden, his offensive production has steadily increased as well. In the 2012-13 Season with the Vaxjo Lakers, Rasmussen scored 16 goals and dished out 12 assists in 42 games, and in the most recent year, he scored 16 goals again and added a career high 24 assists as the Lakers made the SHL playoffs. In the postseason, he scored twice and had four assists in 12 games.
If the team ends up keeping Andrew Shaw at second line center to begin the season, Rasmussen could be one of the players competing for the third or fourth line center spot. Joakim Nordstrom, Marcus Kruger, and Ben Smith will also get the opportunity to be in the mix at center, so it'll be interesting to see how everything ends up shaking out in that battle.