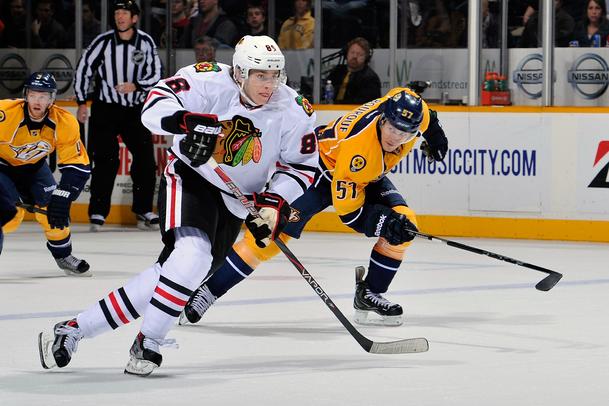 The Chicago Blackhawks had several options to replace Patrick Kane in their lineup, but at least for the time being, it appeared that they picked one that nobody saw coming as they inked free agent forward Matt Carey to a two-year contract on Thursday afternoon.
Carey, a 23-year old who spent last season with St. Lawrence University (and had previously spent three seasons in the Ontario Junior Hockey League), scored 18 goals and added 19 assists in 38 games in his freshman season in college. In 93 career games in Hamilton and Toronto in the OJHL, Carey racked up 58 goals and an impressive 95 assists over three seasons.
While contract terms were not disclosed by the Blackhawks, it wouldn't be hard to imagine that they will only be using Carey in a game or two. Last season the team did the same thing with Hobey Baker Award winner Drew LeBlanc, skating him briefly at the end of the season before sending him down to the Rockford IceHogs in the AHL. Carey will likely get a similar stint at the big league level, but it's not confirmed yet what the team's plans are for him once he reports to Chicago.
If the Blackhawks intend to keep Carey on the roster, or even recall Jeremy Morin or bring Teuvo Teravainen into the fold, then they are going to need to do something to clear more salary cap space.
The leading option at this point is to either put Michal Rozsival or Kane on the longterm injured reserve list, but it's unclear at this point what Stan Bowman is planning to do in order to ensure that the team remains salary cap compliant ahead of their game against the Carolina Hurricanes.