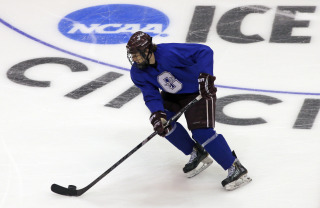 With players like Drew LeBlanc and Matt Carey, the Chicago Blackhawks have made it a point in recent seasons to pluck talented collegiate free agents out of those ranks, and they continued that trend on Thursday as they inked Colgate forward Kyle Baun to a contract.
The deal, which was first reported by TSN's Bob McKenzie, gives the Blackhawks a talented forward with scoring touch and solid passing ability. In three seasons at Colgate, Baun has scored 39 goals and dished out 40 assists, and he has been lauded for his power play skill at the collegiate level.
According to Baun's agent, the forward will report directly to the Blackhawks, which means he could make his NHL debut at some point over the next few games. Like Carey and LeBlanc before him, Baun will probably get a game or two to give him some run at the NHL level (and give another forward a brief rest during the stretch run), and then he'll be sent down to the Rockford IceHogs before being recalled after the season as a "black ace" reserve player.
Since Baun is signing this late in the season, he will not be eligible to be included on the Blackhawks' postseason roster.