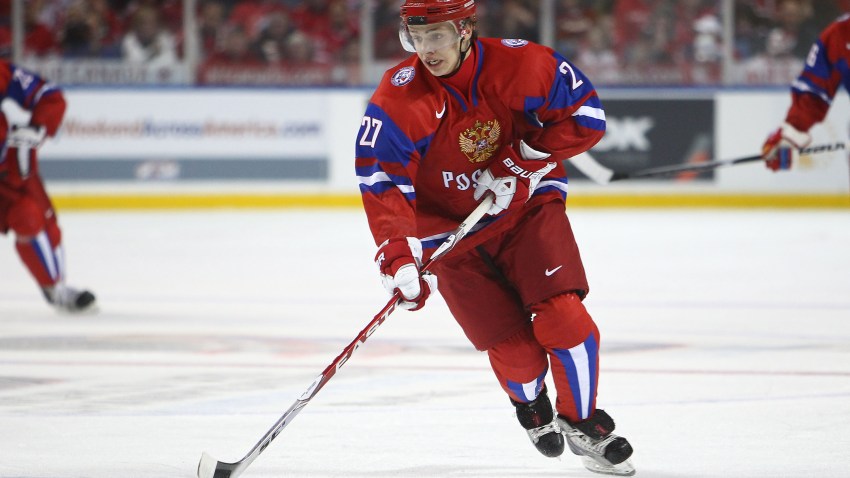 With some salary cap cuts looming and spots opening up for forwards on the Chicago Blackhawks' roster, the team apparently has made a move to shore things up as the team announced Friday that they had signed KHL star Artem Panarin to a two-year contract.
The deal, which was first reported earlier this week by Elliotte Friedman of Sportsnet and corroborated by The Hockey News and SKA St. Petersburg (Panarin's KHL club), will give the Blackhawks one of the most sought after forwards on the foreign market.
Panarin was instrumental in SKA St. Petersburg winning the Gagarin Cup this season in the KHL, scoring five goals and dishing out 15 assists during the postseason. He was also the team's leading scorer during the regular season, with 26 goals and 36 assists on his resume.
If Panarin doesn't make the team, he reportedly has an out-clause in the contract that will let him return to the KHL next season.
In Panarin, the Blackhawks are getting a talented offensive forward who gives them a right-handed shot off of either wing. That could be especially crucial if they're forced to get rid of a player like Patrick Sharp, whose cap hit of nearly $6 million would make it difficult for the team to retain the services of Brandon Saad as he hits restricted free agency this summer.
The Calgary Flames, Toronto Maple Leafs, and Pittsburgh Penguins were among many teams interested in landing Panarin's services.