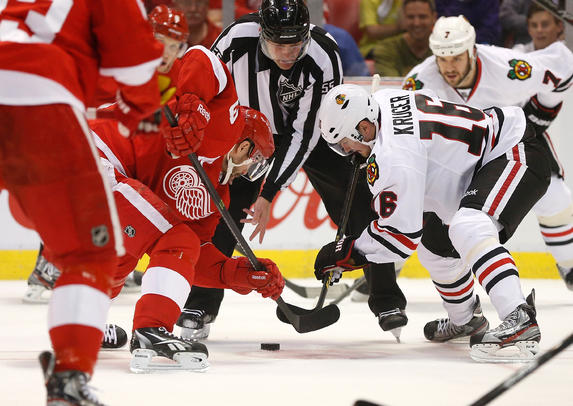 The Chicago Blackhawks and Detroit Red Wings have played over 800 times in their respective histories, so it's always special when the long-time rivals renew hostilities, and they'll do just that on Wednesday night at the United Center.
The two teams have already played against each other this season, with the Red Wings taking a decisive 4-1 victory at Joe Louis Arena back on November 14. In that game, the Blackhawks allowed 37 shots on goal and were man-handled all over the ice by the Wings, who took advantage of second period goals by Johan Franzen and Tomas Tatar en route to the victory.
This time around, things are going a bit differently.
The Wings are still sliding after a lengthy winning streak, losing their last three games and only scoring five goals in those contests—four of those came against the Winnipeg Jets in a shootout loss.
Meanwhile, the Blackhawks are enjoying a lengthy homestand, securing six of a possible eight points in their four games thus far at the United Center, and they'll be looking to gain ground on the Nashville Predators and St. Louis Blues in this one.
Doing so against a team like Detroit will be far from easy. The Wings are one of the most well-balanced teams in the league, thriving in just about every area and using their veteran intelligence and raw skill to bulldoze their opponents.
The Wings are currently ninth in the NHL in goals per game, scoring 2.9 goals per contest, and they are only allowing 2.4 tallies per game, fifth in the league. Their power play is the league's best as well, converting on 26 percent of their chances.
With those numbers setting the table, the Blackhawks do have a couple of things working in their favor when they welcome Detroit into the UC on Wednesday.
First and foremost on that list is the skill of their penalty killing unit, which is still the league's best. Having a large rotation of guys to choose from on the forward side of the zone is huge in this area, and with guys like Marian Hossa playing with a good deal of confidence, that area of the game should help douse the Wings on the power play.
The improving play of Johnny Oduya over the team's last two games is also an encouraging sign.
Since being reunited with Niklas Hjalmarsson, Oduya has looked more at ease on the ice, and his discipline issues he'd been dealing with in recent weeks have eased as well. If he can continue that trend, it will take a lot of pressure off of Duncan Keith and Brent Seabrook, who are still separated because of the ineffectiveness of the team's rotating group of bottom-tier defensemen.
Finally, one more thing could really help the Blackhawks get over the top in this game: if Patrick Sharp could get off the skids.
Sharp has scored just one goal in his last 16 games, despite taking 37 shots on goal. Much like Marian Hossa did when he finally snapped out of his scoring funk—scoring seven times in four games in the process. All it's going to take is one goal to break the dam for Sharp and get him on the right track.
Quenneville would be smart to move Sharp around the lineup a bit in this game, allowing him to skate some shifts with Marcus Kruger and Ben Smith but then bumping him up along with Patrick Kane and Brad Richards on the second line.
A successful penalty kill could also be good for Sharp's production, as he is generally sent out with Kane and Jonathan Toews on a loaded-up forward line following the end of an opponent's power play.