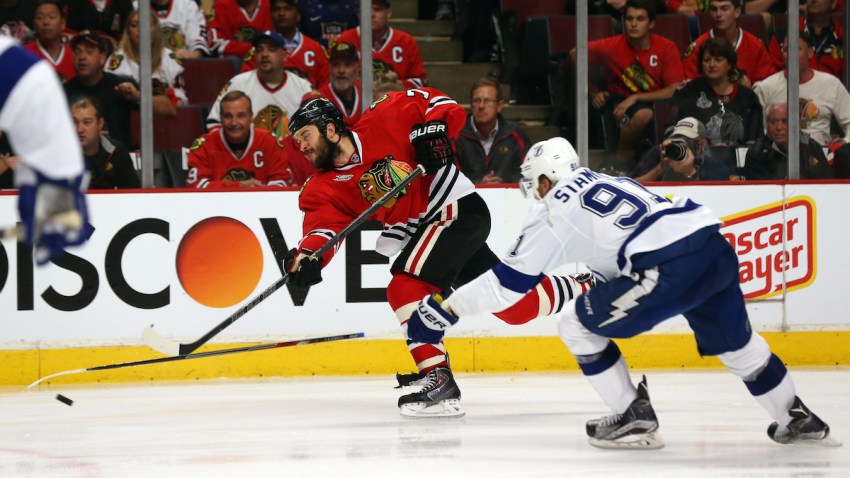 The Chicago Blackhawks had an opportunity to grab a 2-1 lead in the Stanley Cup Final on Monday night, but what they got instead was another frustrating loss against a Tampa Bay Lightning team that is proving to be really difficult to figure out.
Despite the loss, the Blackhawks do have plenty of recent history to look back on for guidance and for hope as they try to tie things up on Wednesday night.
During Joel Quenneville's run as head coach of the team, the Blackhawks have quite a bit of experience in being in 2-1 holes in a series, having done so on eight different occasions. Four of those series saw the Blackhawks play in a Game 3 on home ice, with the team sporting a 1-3 record in those games.
After that, the Blackhawks have been predictably effective in winning games. They have gone on to win five of those eight series, including one during their Stanley Cup run in 2010 and two more during their championship run in 2013. Overall, the Blackhawks are 18-8 in 26 games after going down 2-1 in a series in the Quenneville era, including a 3-1 record in the 2015 postseason.
That, perhaps moreso than any of the other eight series, is what the Blackhawks need to be focusing on as this series moves forwards. Their play against the Anaheim Ducks in Game 3 of the Western Conference Final was simply atrocious, and they somehow managed to get everything clicking again and won despite not having home ice advantage in the series.
That has to be their mindset going into what has now become a must-win scenario in Game 4, and they have to be ready to take the fight to a Lightning team that is showing no signs of going away.